BYRNES: One Big Chemistry Lab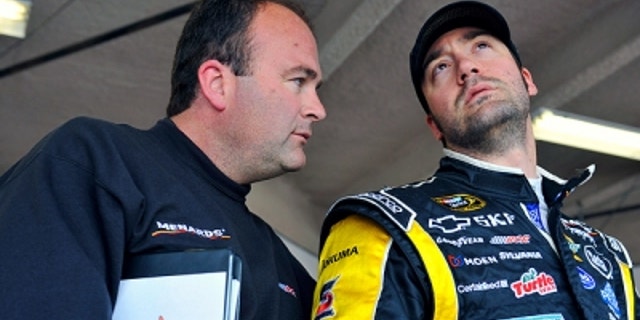 Someone asked me the other day, "If you could pair up any driver and crew chief in the NASCAR Sprint Cup Series garage, who would you choose?"
That's a tough question but also an interesting one, because in a way, the NASCAR garage is one big chemistry lab. Success inside those gates is all about putting the right formula together and hoping it doesn't blow up in your face.
A couple of existing driver/crew chief combinations have impressed me immensely in 2013.
Richard Childress Racing driver Paul Menard still is hanging tough inside the top 10 in points nearly halfway through the regular season. Many people thought he and his Slugger Labbe-led team would have faded by now as they've done in past years. Their MO in recent seasons was to come out of the gate strong the first part of the season but fade down the stretch. They've broken with tradition thus far in the 2013 season, though, and are doing an excellent job of staying near the front.
Both have readily admitted they've started the season off well the last couple of years and then fallen back. As a result, Slugger has been saying his mantra is "maximum points every week." To that end, they're planning to test at tracks they really need to improve. They're testing at Pocono, Kentucky and a road course in June – that's a ton of testing time. But it goes to show how committed they are to turning the tide this year.
A big component of their success this season is their solid chemistry. This is Menard and Slugger's fourth year together, and with each passing season, they develop a better understanding of each other and what Menard wants and needs in a race car. They're also best friends who truly enjoy each other's company, which goes a long way in the success department in NASCAR. In my book, Menard's No. 27 team is one of the biggest surprises of the year. We all thought they'd be outside the top 10 by now, but they've shocked a lot of folks. It will be quite interesting to follow this team during the summer stretch to see if they can maintain their momentum.
Another combination that has surprised me with its quick strength is Carl Edwards and Jimmy Fennig at Roush Fenway Racing. I spoke to Edwards one night after Daytona testing in January, when he was just getting to know Fennig and spending some time with him. Edwards said, "Dude, he scares me. He's a no 'BS' guy. He just gave me a speech about his expectations and what should be a priority." I think Fennig's take-charge manner caught Edwards a bit off guard, but it seems to be just what the driver needed.
I asked Jack Roush about this pairing recently on NASCAR Race Hub and he said Edwards is more engaged with Fennig in the process of making the car fast than he was with his former crew chief, Bob Osborne. Osborne would say, "This is what we're doing," and Edwards would say, "Okay." But now the driver is more involved in the decision-making process. Edwards has a ton of respect for Fennig, who is an old-school guy that wants his team managed a certain way. He doesn't apologize for being tough and demanding, and Edwards has responded well to that approach. The proof is in the points – Edwards is second – only 32 points behind leader Jimmie Johnson. He already has a win and could have won Talladega had the sun not come back out. After the No. 27 team, I'd say Edwards and Fennig are one of the biggest surprises of 2013.
Back to the original question, if I could place any driver and crew chief together who aren't already teamed up, I'd select Brian Pattie and Ryan Newman. Newman has an engineering degree and is very analytical, and while Pattie doesn't have an engineering background, he also is quite analytical. Pattie is one of the most underrated crew chiefs in the garage area and has very good seat-of-the-pants feel for calling races. It would be quite interesting to see what those two could do if given the chance together.