Bylsma not counting on having Crosby for opener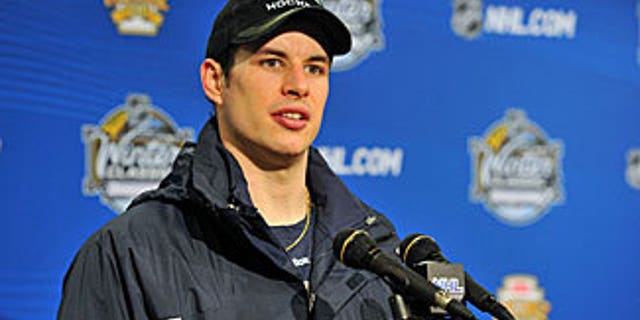 Sidney Crosby was on the ice again Friday morning with the Pittsburgh Penguins for the team's morning skate in preparation for Friday night's game against the Islanders, but when, or even if, he might return this season remains undetermined.
The Penguins have two games left in the regular season and will begin play in the 2011 Stanley Cup Playoffs sometime next week. Without providing any kind of definitive answer, Pittsburgh coach Dan Bylsma did not sound optimistic about having Crosby at the start of the postseason.
"We've said it before and continue to say it -- he has a couple more steps to go in his rehabilitation before he can even think about returning to play," Bylsma told reporters. "I don't know how fast that's going to happen, I don't know if that's going to happen. There's no way to even make a timetable. And considering that he has two more steps to go through, it would seem like anything in the immediate future is out of the question."
Crosby has not played since Jan. 5 because of a concussion. The Penguins are 21-13-5 without their captain, and are one point behind rival Philadelphia for first place in the Atlantic Division. The Flyers play at Buffalo on Friday.
Philadelphia finishes the regular season Saturday at home against the Islanders, so the Penguins will know if they have a chance to claim the division crown and a top-three seed prior to their finale Sunday at Atlanta.
Crosby began skating on his own March 14 and has been working on the ice with the team in non-contact situations since March 29. He's going to need clearance from the team's medical staff before taking part in the contact portion of practices.
"No change in that status, just continuing that progression and on the ice," Bylsma said. "Again, his interaction is with the doctors, not with the coaching staff or training staff. So he gets his daily activity and progression from somewhere else, not us."