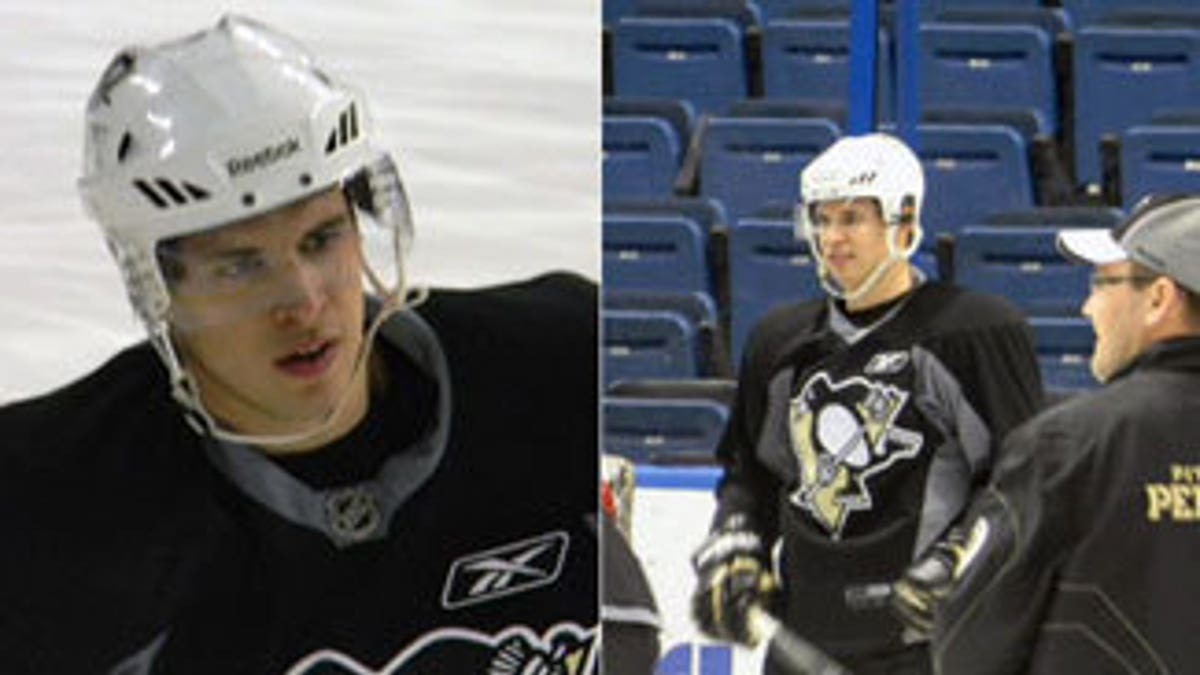 PITTSBURGH -- While the Pittsburgh Penguins are getting close to advancing to the next round of the Stanley Cup Playoffs, it doesn't appear as if Sidney Crosby is much closer to returning to their lineup.
Crosby, out for 3½ months with a concussion, still hasn't progressed to the stage of his recovery where the Penguins can accurately estimate when he might play again, coach Dan Bylsma said Thursday.
Crosby, the NHL's leading scorer when he was hurt in early January, is skating on his own and has been practicing regularly with his teammates -- on games days and during off-day practices -- for a month. But he still hasn't been cleared for any contact in practices, much less in ultra-competitive Stanley Cup Playoff games.
The Penguins own a 3-1 lead in their Eastern Conference quarterfinal-round series against Tampa Bay going into Game 5 Saturday in Pittsburgh, after taking Games 3 and 4 on the road. Even if they advance, it doesn't appear as if their captain will be ready for the next round.
Bylsma's update on Crosby is that there is no update.
"He continues to keep going, but we need to see him progress further down the road before any kind of timetable (for Crosby's return) is talked about," Bylsma said.
With an extra day before Game 5, the Penguins took Thursday off. Crosby also did not take the ice after doing so Tuesday and Wednesday in Tampa.
Crosby is attending all of the Penguins' playoff games, performing scouting duties while sitting in a private box with general manager Ray Shero, assistant to the general manager Tom Fitzgerald, goalies coach Gilles Meloche and others. Bylsma said Crosby's insight has been valuable, and he is passing along helpful strategic information.
But Crosby playing again? The Penguins aren't about to guess when that might happen. Several weeks ago, Shero and Bylsma said Crosby -- who sat out the second half of the regular season -- might not return until next season.
"There's no timetable," Bylsma emphasized during his off-day news conference. "If you were under the impression he was moving closer … he's got to pass to the next stage of what he can do, and that has not happened yet."
As he has since he began his recovery, Crosby talks to his doctors on a daily basis and they decide what he can do that day.
"Some days those (activities) are on the ice, some days they are off and some days they're both," Bylsma said.
Despite being without Crosby and former Conn Smythe Trophy winner Evgeni Malkin (knee surgery), the Penguins are within one victory of advancing to the conference semifinals for the fourth consecutive season.
They reached the Stanley Cup Final in 2008 and 2009, winning it two seasons ago. They advanced to the conference semifinals last season before losing to Montreal in seven games.