Buzz: Boston cop reaction goes viral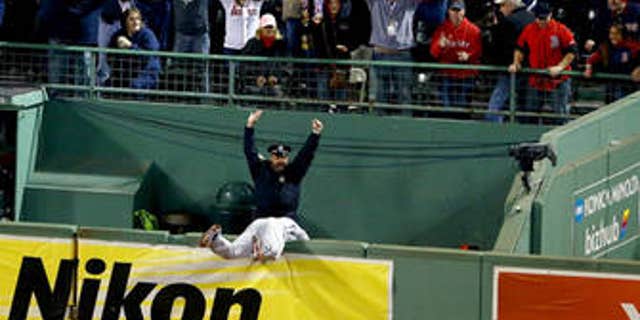 David Ortiz's eighth-inning grand slam Sunday night may very well have saved the Boston Red Sox's season, and there was no one more excited about Papi's clutch home run than Steve Horgan, a Boston police officer who unwittingly became the face of Boston's epic rally as he celebrated in the Red Sox bullpen.
The 50-year-old Horgan had his face go viral -- even making the front page of the Boston Globe sports section -- after he was photographed (above) with his arms extended over his head, celebrating as Tigers outfielder Torii Hunter flipped over the wall trying to make a play on Ortiz's slam.
Horgan learned of his newfound celebrity after the game, when he returned to his phone to find 20 text messages informing him of the global reaction to his reaction.
"I couldn't even hear myself it was so loud," the 27-year police veteran, who is on his first full season as the security detail in the Boston bullpen, told ESPN Boston . "I can't believe it. I don't know what to think. I can't believe it. It was an awesome feeling."
After the game, Horgan met with some of the Red Sox players in the players parking lot. The new most famous fan in Boston also posed for a picture with team owner John Henry as Henry and his wife left the stadium.
According to ESPN, Horgan started growing his now-famous beard at the start of the playoffs -- which is really pretty remarkable if that's his 10-day scruff -- and his boss has since instructed him not to shave it for as long as the Sox are still alive.
Of course, at this point, after accidentally becoming the face of a playoff run, he'd be crazy to even consider it.
Now, for some links:
- The Yankees are reportedly planning on going after the next great Japanese pitcher .
- Two high school football referees were arrested in the middle of a game .
- Via SB Nation , Teddy Bridgewater is not a great slider:
- Michael Beasley punched himself in the head after a turnover:
- Bartolo Colon thinks he can pitch three more years .
- Linsanity made its way to Taiwan for a preseason game.
- Kevin Durant says his fiancee is the better basketball player in their relationship:
@pdgraham30 I love it!!! She's the better player anyway
-- Kevin Durant (@KDTrey5) October 11, 2013 - A New Jersey car dealership put that Giants-hating NYC strip club on notice in its latest ad:
- Via Bleacher Report , John Tavares is an amateur dentist:
- Ever wonder how Lambeau Field keeps its grass green in the winter?
- Speaking of the Packers' home stadium, Wisconsin will play LSU at Lambeau in 2016.
- Not cool, guy:
Uhhhh...No words. #RedskinsTalk pic.twitter.com/D4e55VYSZ0
-- Tarik El-Bashir (@TarikCSN) October 14, 2013 - MLB released video of Casey Stengel running the bases at the 1923 World Series:
Your browser does not support iframes.
Via Buzzfeed Sports , here's Navy's quarterback stiff-arming a referee:
- It's not every day you see a 3rd-and-48 in a football game.
- A Louisville football player was arrested for speeding .
- Here's your soccer goal of the weekend:
- Ride along with a jockey in this video:
- Cristiano Ronaldo wrote a letter on behalf of the fan who hugged him on the field in Miami.
- Horace Grant says Michael Jordan could still score 45 in today's NBA.
- Penn State fans set up a vigil for Joe Paterno's missing wins:
Vigil prequel pic.twitter.com/ymCT0WF9M3
-- mgoblog (@mgoblog) October 12, 2013 - Mitt Romney tailgated at Ole Miss:
You know. Sometimes Mitt Romney just hangs out in the Grove. Right by my tent. http://t.co/nRZnYTL5co
-- R. Brent Johnson (@662RBJ) October 12, 2013 - Drake wore a Johnny Manziel jersey while watching Johnny Manziel play:
- No. 1 pick Anthony Bennett is struggling with his conditioning early in his NBA career.
- Joe Kelly doesn't wear his glasses as a hitter because he sees too well with them .
- Chris Kaman hurt his finger while tobogganing at the Great Wall of China .
- Kevin Ware showed off his leg scar:
Kevin Ware's scar pic.twitter.com/E4ljszevLp
-- Eric Crawford (@ericcrawford) October 12, 2013 - The Red Sox fan who forcibly swiped a woman's home run ball and threw it on the field was also reportedly kind of racist :
- Iman Shumpert's flat top is gone: