Burrows experiencing rollercoaster of emotions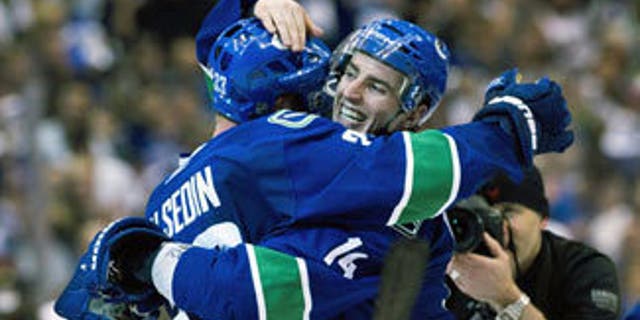 VANCOUVER -- To say the past couple days have been a rollercoaster of emotions for Alexandre Burrows would be a gross understatement.
After scoring the overtime winner in Game 7 to advance his Vancouver Canucks past the Chicago Blackhawks on Tuesday night, the 30-year-old Burrows and his wife Nancy welcomed their first child nearly 24 hours later.
"It's been a lot of emotions the last 24 hours, but at the same time hockey-wise it was nice," Burrows said Thursday. "Personally it was even better, I think, to have our first child."
Victoria Burrows was welcomed into the world around 9 p.m. Wednesday night.
"We're really happy, my wife did a great job," Burrows said. "Everybody -- doctors, nurses were unbelievable, so it was a special night."
Just over 12 hours later Burrows was back at Rogers Arena as the Canucks prepare to battle the Nashville Predators in the first-ever playoff meeting between the two franchises.
"It's been good so far, obviously I stayed there a few hours at the hospital after the birth last night," Burrows said. "My wife knew I needed some sleep so she said, 'Go home and get some rest,' and she knows we have a big game today."
Added Canucks coach Alain Vigneault: "That's a pretty good day for a little Frenchman from Quebec, so he was alright this morning, I talked to him briefly there and he's ready to go."
Burrows picked up the overtime winner at the 5:22 mark on Tuesday night as the Canucks defeated the Chicago Blackhawks in the first round of the playoffs -- the third consecutive playoff meeting between the two clubs.
The Pincourt, Quebec, native made sure to collect the puck from the big win and now it's in the possession of the team's trainers.
"We kept it for the team, obviously," he said. "We want to get much more and we left (the puck) for the trainers and we kept it for hopefully the long run."
Burrows and his teammates must now quickly turn their attention to the Nashville Predators, who are in town for Game 1 Thursday night.
"They're one of the best defensive teams in the league, they got a great system led by a great coaching staff and obviously their goalie plays really well, competes hard in his crease," Burrows said, referring to Nashville's Pekka Rinne, who like Vancouver's Roberto Luongo is a finalist for the Vezina Trophy.