Bumgarner, Giants roll over Royals in World Series opener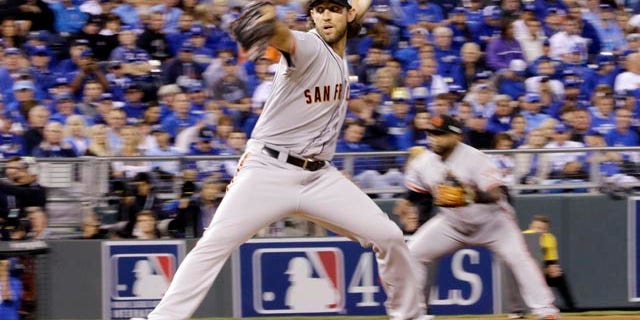 Madison Bumgarner allowed one run on three hits over seven innings as the San Francisco Giants defeated the Kansas City Royals, 7-1 in the first game of the World Series Tuesday night.
Kansas City fans' 29-year wait for a World Series game ended in disappointment as the Giants scored three runs in the first inning off Royals starter James Shields on a Pablo Sandoval RBI double and a Hunter Pence 2-run home run.
The Royals's best chance to get back in the game came in the bottom of the third inning, when Kansas City put runners on second and third with nobody out. But Bumgarner struck out Alcides Escobar and Nori Aoki and retired Eric Hosmer on a first-pitch groundout with the bases loaded to end the threat.
San Francisco made the score 4-0 on an RBI single by Michael Morse that chased Shields from the game. Reliever Danny Duffy allowed a fifth run to score in the inning on a sacrifice bunt and two walks.
By then, Royals fans had gone silent. Or, worse, they were booing while small "Let's go, Giants!" chants echoed through Kauffman Stadium.
Just like that, what many figured would be a tight matchup had turned into a mismatch. And it was a good omen for the Giants — the Game 1 winner has won 15 of the last 17 World Series.
The Giants scored two more runs in the seventh inning on a single by Sandoval, who came home on a triple by Joe Panik. Salvador Perez prevented a Series-opening shutout with a solo home run in the bottom of the inning.
The loss was the first suffered by the Royals this postseason and the first postseason defeat for the franchise since Game 4 of the 1985 World Series against the St. Louis Cardinals. Kansas City rallied to win that series, becoming the first team to win a seven-game series after dropping the first two games at home.
The Giants, who are looking for their third world championship in five years, will start Jake Peavy in Wednesday's Game 2, while the Royals will counter with 23-year-old Yordano Ventura.
The Associated Press contributed to this report.