Buffalo Bills are on pace to shatter an NFL record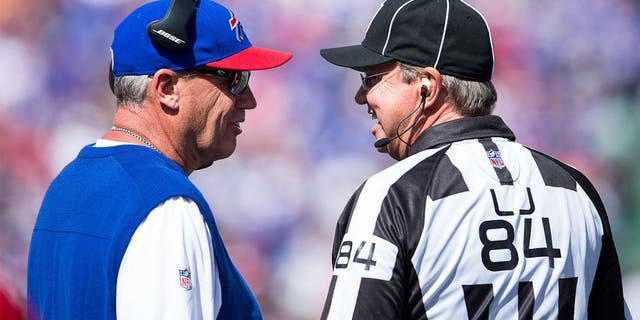 The Buffalo Bills have been a pleasant surprise for the most part this season. They sit at 2-2 after losing to the New York Giants on Sunday, but the defense has played well, and so has Tyrod Taylor.
The Achilles' heel in Buffalo, however, is the number of penalties they've been called for. Through four games, the Bills have been flagged 57 times, with 17 of those penalties coming in Week 4 alone.
The NFL record for most penalties in a single season is 158 by the Kansas City Chiefs in 1998. With 57 through four games, the Bills are on pace to shatter that record with 228 penalties.
Several of those penalties on Sunday cost the Bills touchdowns and ultimately impacted the outcome of the game in a big way, but Rex Ryan is shockingly not upset about it.
"Can you play a lot smarter? Absolutely," Ryan said via ESPN's Mike Rodak. "But I'll take a team that can fight over a team that won't -- that will sit back and take it -- any day of the week. The discipline things? I get it. When you have 17 penalties, that's obviously a sign of lack of discipline."
If the Bills don't clean up the laundry issue, they'll continue to prevent themselves from winning football games. They'll also etch their name in the record book, which Ryan may not be mad about. Regardless, 57 flags through four games is far too many, and they'll need to fix that if they hope to make a run at the playoffs.
MORE NEWS: Want stories delivered to you? Sign up for our NFL newsletters.