Bucs pitcher Watson says chasing Cards has him 'somewhat frustrated'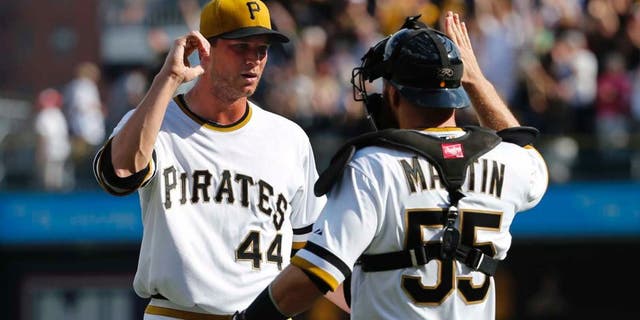 NEWYou can now listen to Fox News articles!
The Pittsburgh Pirates have been on quite run in August and are on pace to win nearly 100 games this season. Still, unless the St. Louis Cardinals stumble in September, it won't be good enough for Pittsburgh to win the NL Central.
If the Pirates can't catch the Cards, they know what that means, a one-game, do-or-die playoff to advance to the divisional series. That's a scary proposition for a team that has played so well all season and would be heading toward a division championship just about anywhere else in baseball.
Pirates pitcher Tony Watson, while making an appearance on "The Cook and Poni Show" didn't shy away from saying just how frustrating it is to play so well yet hardly gain any ground on the Red Birds.
"I'm somewhat frustrated," Watson said on the show. "They are playing great baseball and I think we are playing great baseball as well. We still have two series with them, but we don't look that far ahead. We just need take care of business one at a time and hopefully climb our way back."
A head-to-head meeting with St. Louis is coming up on the second of a three-city road trip that started Tuesday night at Milwaukee. The Pirates and Cardinals will meet for a three-game weekend series in St. Louis on Friday before wrapping up the trip in Cincinnati.
Sunday's game at St. Louis will be the featured nationally televised game.
"It's a really competitive division," Watson said. "I think it's the best in baseball."
No doubt about that. Just ask the third-place Chicago Cubs.
(h/t CBS Pittsburgh)