Bucks lose third straight, fall 102-78 to Pistons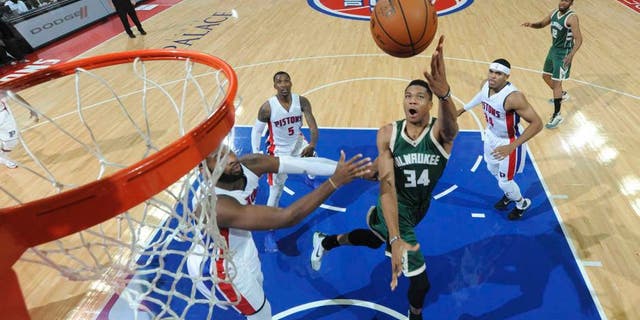 Giannis Antetokounmpo scored 21 points, while Jabari Parker chipped in 18 points, but the Milwaukee Bucks suffered their third straight preseason loss, falling 102-78 to the Detroit Pistons on Monday.
The Bucks jumped out to a 10-point lead in the first quarter, before the Pistons began to chip away in the second.
Detroit came out firing in the second half, outscoring Milwaukee 36-17 in the third quarter and 26-13 in the fourth, ultimately outshooting the Bucks 48.7 percent to 27 percent on the night.
It's the second straight preseason game in which the Bucks have lost after jumping out to an early lead.
Milwaukee led the Chicago Bulls 60-43 at halftime Saturday, but was outscored 37-7 in the fourth quarter en route to a 107-86 loss.
Greg Monroe came off the bench to score 12 points in the loss but was just 6-for-19 from the field, while new addition Matthew Dellavedova managed just two points in 27 minutes of action.
Kentavious Caldwell-Pope led the Pistons in scoring with 23 points, while Marquette standout and Rice Lake native Henry Ellenson had 14 points.
Ellenson also grabbed five rebounds and went 3-for-3 from 3-point range.
The Bucks return home Wednesday for their final preseason game, taking on the Indiana Pacers at 7 p.m.