Buccaneers' Glennon makes case for starting quarterback job even when injured McCown returns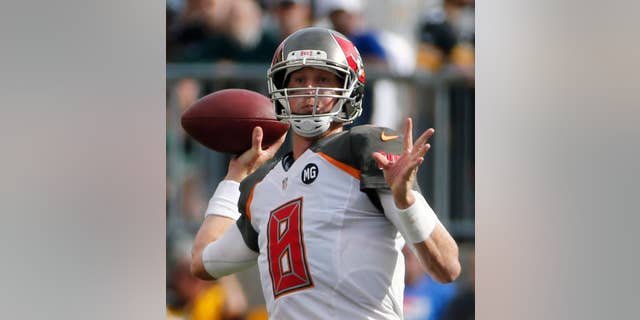 NEWYou can now listen to Fox News articles!
TAMPA, Fla. – Lovie Smith wasn't ready Monday to deal with the inevitable questions about his starting quarterback.
On the day after his first victory as coach of the Tampa Bay Buccaneers, he certainly said nothing to rule out Mike Glennon. He who threw for 302 yards Sunday, 46 of them in the final 40 seconds of a 27-24 win at Pittsburgh.
"You do judge quarterbacks on what they do late," Smith said, "and he was at his best at the end, right up until the last throw."
Starting in place of the injured Josh McCown, Glennon completed a five-yard touchdown pass to Vincent Jackson for the game-winning TD with seven seconds left.
McCown broke his right thumb during a 56-14 loss at Atlanta on Sept. 18, Tampa Bay's third straight loss. He is not likely to be ready to play Sunday at New Orleans, so Smith's decision will be postponed.
"I look at who's available at the time and at who gives us the best chance to win at all positions," he said. "We'll do the same when Josh gets back. He's not back yet, though."
Glennon started 13 games as a rookie last season, but the Bucs signed the 35-year-old McCown to a two-year, $10 million contract in March.
"I don't have any regrets. We let things play out," Smith said. "I tell guys you start off with a group and eventually, wherever you belong, that's where you'll end up.
"When you're labeled the quarterback of the future, that's what you're supposed to do when you come out. The future was in front of us a little earlier than the initial plan, but you need to be ready at all times. How (Glennon) handled it right there at the end, having to make that final throw, kind of said it all."
The return of defensive linemen Gerald McCoy and Michael Johnson were large factors in the Bucs' 10-day turnaround from embarrassment to their first win, Smith said, and it left them with a different outlook. With 12 games left, they are one game out of the NFC South lead.
"Yes, 1-3 is disappointing, but in the big scheme of things there are a lot of disappointed teams in the league," Smith said. "For us, we're one game away and we have another chance to get a division road game. What better position for us to be in? We're getting some of our injured players back, and our guys can see where we can go."
Safety Dashon Goldson left the Steelers game early with an ankle injury and wide receiver Mike Evans left with an injured groin. Johnson re-injured his ankle in the game and McCoy was adjusting to playing with a cast on his broken left hand.
McCown remains unable to grip on a football properly, which makes a quick return unlikely, especially after Glennon's performance Sunday.
"As I look at quarterbacks, I look at decision-making, and he made good decisions throughout the day," Smith said. "If he couldn't find a guy, he put the ball where no one could get it. That's a good game to build on, but he'll (Glennon) tell you there's a lot of plays he left on the field, and we left on the field too."
___
AP NFL websites: www.pro32.ap.org and www.twitter.com/AP_NFL