Bryce Harper wins Home Run Derby in home park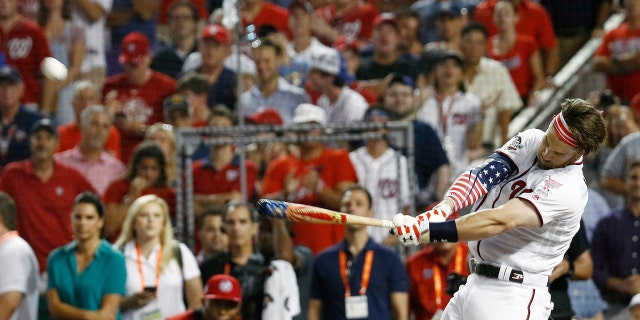 Amid a disappointing regular season and speculation about his future in Washington, Nationals slugger Bryce Harper gave his fans one more reason to cheer Monday night, winning the Home Run Derby at Nationals Park.
Accentuating his uniform with an American flag sleeve and a District of Columbia flag headband, Harper hit 19 home runs in the final round to beat out Chicago Cubs slugger Kyle Schwarber by a single blast.
Harper's winning home run came during a 30-second bonus batting period he earned by smashing two balls that traveled at least 440 feet. He matched Schwarber's 18 homers on the final swing of his allotted 4 minutes.
He launched the winning blast on his second extra swing, holding his bat over his head and walking down the first-base line as it cleared the center-field fence and a shower of streamers rained upon the crowd of 43,698.

Harper hit 13 home runs in each of the first two rounds, enough to eliminate Freddie Freeman of the Atlanta Braves in the quarterfinal and Max Muncy of the Los Angeles Dodgers in the semifinal. However, his night seemed to be heading for a disappointing finish when he trailed Schwarber 18-9 with 1:20 left in the final round.
But with his father Ron pitching to him, Harper put on a show that electrified the crowd.
Harper, the 2012 National League Rookie of the Year and 2015 National League MVP, has had an uneven season and the Nationals sat at .500 entering the All-Star break after making four playoff appearances in the previous six years.
In the other semifinal, Schwarber and Rhys Hoskins of the Philadelphia Phillies put on a remarkable show, with Schwarber eventually winning 21-20.
In the other first round matchups, Hoskins defeated Jesus Aguilar of the Milwaukee Brewers, 17-12. Schwarber edged Alex Bregman of the Houston Astros, 16-15, while Muncy narrowly beat Schwarber's Cubs teammate Javier Baez, 17-16.
Harper joins Ryne Sandberg and Todd Frazier as the only players to win the Home Run Derby at their home ballparks. Sandberg accomplished the feat at Wrigley Field in 1990, while Frazier did it in 2015 as a member of the Cincinnati Reds.
The Associated Press contributed to this report.