Bruins' Julien takes page from Belichick's wardrobe playbook for Winter Classic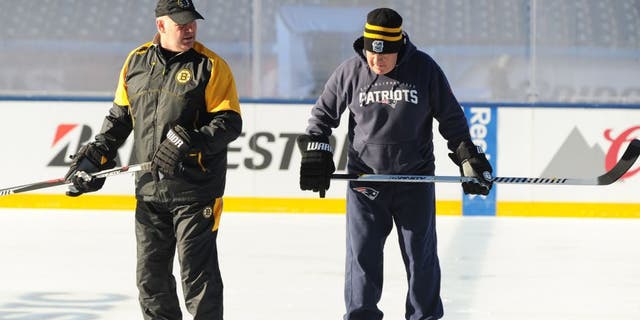 FOXBORO, Ma. -- Boston Bruins coach Claude Julien is paying homage to the host New England Patriots at the 2016 NHL Winter Classic by heeding some style advice from NFL fashion icon Bill Belichick. The Patriots' coach is infamous for his cut-off hoodies and rumpled khaki pants on the sidelines of Patriots games, so his staff made sure Julien could rock his own hoodie at field level at Gillette Stadium for Friday's hockey game.
The relaxed style is a departure from Julien's vintage 2010 Winter Classic attire, when the coach rocked a letterman's jacket and fedora for the Bruins' game against the Philadelphia Flyers:
Julien spoke about the warm relationship between him and Belichick ahead of Friday's game.
"We play different sports, but as coaches, I think there's a lot of things we can learn from each other and admire from each other," Julien said. "And that's the one thing I have learned from Bill is his preparation is second to none."
Perhaps it is Belichick's influence that inspired Julien to make sure the sleeves of his Winter Classic sweatshirt were cut properly ahead of the game, as proper preparation clearly pertains both to strategy and style.