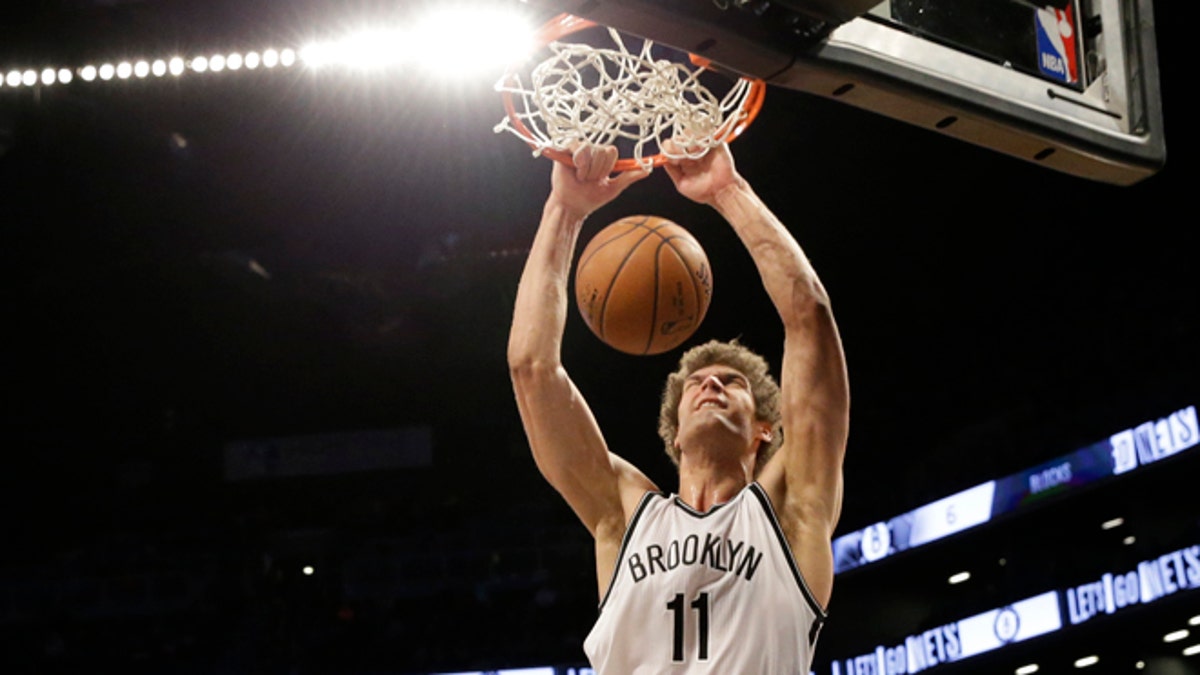 NEW YORK (AP) – Big games in Brooklyn were big disappointments for the home team earlier this season, but the Nets believe they are a different team now — potentially a playoff one.
Brook Lopez, the Eastern Conference's reigning Player of the Week, had 24 points and 11 rebounds, and the Nets reclaimed sole possession of eighth place in the Eastern Conference by beating the Indiana Pacers 111-106 on Tuesday night for their season-high fourth straight victory.
"It's just a mentality, I guess, sense of urgency. Realizing we have a chance to make these playoffs and we're just trying to make a push," point guard Deron Williams said.
The Nets moved back ahead of Boston and dealt a blow to the Pacers, who fell 1 1/2 games behind Brooklyn. They visit the Celtics on Wednesday, so coach Frank Vogel told them to quickly move on.
"We've got a game tomorrow night. There's plenty of basketball still to be played," he said.
Joe Johnson added 21 points, including five straight after the Pacers got within three with about 2 minutes left. Alan Anderson scored 20, with the Nets improving to 17-5 when he gets into double figures.
Brooklyn, which flopped in important home contests against Charlotte and Boston earlier this season, won for the sixth time in seven games and claimed the tiebreaker with Indiana by winning the season series.
George Hill scored 28 points for the Pacers, who lost for the eighth time in 10 games.
Lopez was named the Eastern Conference player of the week after averaging 28.8 points, 8.5 rebounds and 2.3 blocks last week.
"We've just got to bring it more and take away the loss and how bad it feels," Hill said. "It feels like we're kind of giving the season away one game at a time so we've got to forget about it now and focus on tomorrow, bring it tomorrow and try to get a win tomorrow."
It was a disappointing start to a crucial week for the Pacers, who also are home for games against Charlotte and Miami on Friday and Sunday. Vogel compared it to the NCAA Tournament, saying that "if you win, you knock off a team, and if you lose, you go home."
The Pacers aren't going home yet, but the Nets made it tougher for them to go to the playoffs.
The Nets picked up right where they left off in their 123-111 victory at Indiana on March 21, when their 61.3 percent shooting was the highest the Pacers have ever allowed at home.
Brooklyn raced to a 33-15 lead after one and was ahead by 19 early in the second before the Pacers turned it around behind their reserves, who scored all but three of Indiana's 39 points in the period. The Pacers briefly took the lead in the closing minutes before the Nets carried a 57-54 advantage into the locker room.
"I was as surprised as anyone by the way we came out and played," Hollins said, "because I knew they'd be ready and we just jumped on them and I think that was the game."
The Nets rebuilt the lead to 97-85 midway through the fourth after consecutive baskets by Thaddeus Young, who returned after missing two games with a strained left knee. Indiana trimmed it to 103-100 with 2:11 remaining, overcoming a technical foul by Vogel, but Johnson nailed a jumper and then a 3-pointer.
Indiana starting guard C.J. Miles, who averaged 27 points in his previous two games, sprained his right ankle in the first quarter and played just six minutes. Reserve Rodney Stuckey, bothered by a sore right wrist, shot 1 for 8 for four points.
Like us on Facebook