Broncos WRs agree: Lions' Darius Slay is a 'baller'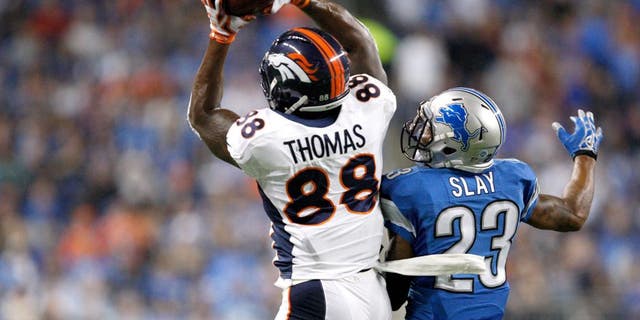 Cornerback Darius Slay didn't have his best game when his Detroit Lions faced the Denver Broncos in Week 3 of the 2015 season. Although Broncos wide receivers Demaryius Thomas and Emmanuel Sanders both burned him for big gains in a 24-12 win over the Lions, they're still big fans of Slay.
Sanders described Slay as a "baller."
Via Josh Katzenstein from The Detroit News:
Slay gave up a 34-yard reception to Sanders, which wasn't as bad as the 45-yard touchdown Thomas scored on him. Still, Thomas spoke highly of Detroit's young coverage expert.
Via The Detroit News:
Aside from these two slip-ups, Slay has rarely let receivers get past him. In three seasons, the former second-round draft pick has developed into a shutdown cornerback with 35 defended passes.
In order to garner the national respect he deserves, Slay must turn a few more of those pass break-ups into interceptions. He only has four career picks, two in each of the past two seasons.