Broncos LB Von Miller gets Super Bowl 50 helmet returned to him by FBI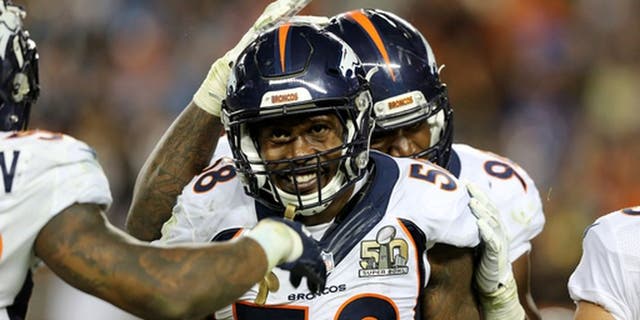 NEWYou can now listen to Fox News articles!
The FBI has solved another Super Bowl mystery, returning Von Millers Super Bowl 50 helmet back to the Denver Broncos star on Wednesday. Last month, authorities tracked down the man who took Millers helmet along with Tom Bradys jerseys from the Patriots past two Super Bowl victories.
I just want to thank the FBI and Mexican authorities for getting it back and working on it, Miller said, via Pro Football Talk. I dont know how you can find one helmet in the world like that. Its really incredible.
Ironically, Miller hadn't even known the helmet he wore during his Super Bowl MVP performance had gone missing until recently. Miller had two strip-sacks of Cam Newton to help the Broncos beat the Panthers 24-10 in 2016.
"Honestly, I didn't even know my helmet was missing. That's how crazy last year was," Miller said recently. "But we had the best of the best, the finest investigators on the whole ordeal, and they were able to find … Tom's jerseys, and they were able to find my helmet, as well. So, hats off to those guys."
Photo by Focus on Sport/Getty Im | Getty Images