Broncos, Giants Win Divisions, While Patriots Top AFC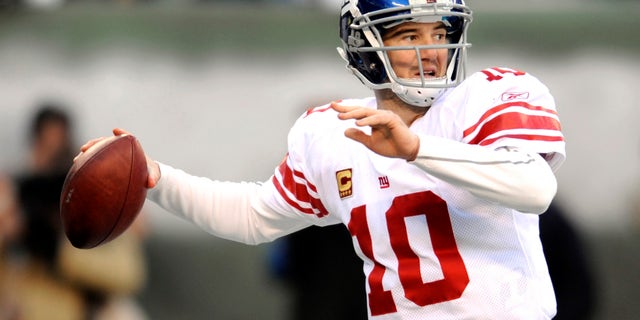 Two rematches of regular-season games will highlight the wild-card round, which was set up when Cincinnati grabbed the final AFC spot Sunday and Atlanta moved ahead of Detroit in the NFC.
The Bengals got into the postseason despite losing 24-16 to Baltimore, winning a tiebreaker at 9-7 over Tennessee. Cincinnati visits Houston to open the playoffs on Saturday.
The Texans (10-6) beat the Bengals 20-19 in Cincinnati on Dec. 11.
"We've been successful up until this point, and we've got a shot in the playoffs," Bengals rookie quarterback Andy Dalton said. "We're in it. Now it's what we do with it. I think everybody's got the right attitude."
Detroit will need to find the right attitude when it visits New Orleans on Saturday night. The Lions (10-6) lost a shootout at Green Bay 45-41 in their finale, meaning a return to the Big Easy, where they fell 31-17 on Dec. 4.
"Everyone's frustrated because you want to win anytime you play," defensive end Kyle Vanden Bosch said. "But it won't put a damper on our season, and we're excited about our opportunity and we're in the playoffs."
So are the Giants and Broncos, who won their divisions in different manners Sunday.
New York's 31-14 victory over Dallas gave the Giants (9-7) the NFC East title. Atlanta, which earned the No. 5 seed in the conference by routing Tampa Bay 45-24 earlier in the day, will visit the Meadowlands.
"I would not want to face the New York Giants in the playoffs right now," running back Brandon Jacobs said. "I got the same feeling" as when the Giants won the Super Bowl as a wild card after the 2007 season.
Even without any Tim Tebow heroics, the Broncos won the AFC West. They did it despite falling 7-3 to the Kansas City Chiefs because San Diego knocked off Oakland 38-26. The Broncos and Raiders tied for the division lead at 8-8, but Denver won on the tiebreaker, better results in common games.
Tebow's late-game magic helped Denver turn around its season, from 2-5 to the top of a weak division. He struggled mightily as the Broncos lost their last three games, but they are playoff-bound for the first time since 2005.
"It's obviously a little bittersweet right now," Tebow said. "We obviously would have loved to have won that game to have a little momentum going into the playoffs. But I think it's still a special thing what we accomplished — to come back and win the AFC West is very special."
They did it at the expense of the archrival Raiders.
"It's obviously frustrating when you hear the other outcomes of other games and know what was there to be had just makes it that much worse, that much more difficult," Oakland quarterback Carson Palmer said.
Baltimore (12-4) took the AFC North and a first-round bye as the No. 2 seed when it outlasted Cincinnati. Even though the Bengals lost, their 9-7 record earned them a wild card in a head-to-head tiebreaker over Tennessee, the only other team with that record in the AFC. The Bengals beat the Titans 24-17 in November.
Pittsburgh (12-4) is the other wild card, but lost both games to the Ravens this year to finish second in the division. The Steelers, who beat Cleveland 13-9, will be at Denver next Sunday.
"Now is the time to go out and play our best football," said Ben Roethlisberger, who went 23 of 40 for 221 yards on his gimpy left ankle. "If you are a great team, you have to win on the road. We'd like to get it together, starting next week. We have not been able to put it all together yet this year, whether because of injury, weather, a lot of factors."
By winning every game in the second half of the season, the Patriots own home-field advantage in the AFC playoffs. By losing their last three games, the New York Jets won't be going to a third straight conference title game.
The Patriots (13-3) earned the right to stay at home throughout the AFC playoffs after a 49-21 victory over Buffalo, which led 21-0 after the first quarter. It should be comforting to the Patriots, except that they have lost their last two home playoff games, and their last three postseason games overall.
"It depends on how we play," three-time Super Bowl champion Tom Brady said. "It's great playing at home. It's great to have a bye. But I think we have to concentrate here this week on what we need to do to play our best football in a couple weeks."
The Jets (8-8) finished a late-season collapse with a 19-17 loss at Miami to fall out of contention. They dropped their final three games after taking control of the AFC's final wild-card spot.
"We played well in spurts this season, but we weren't consistent enough," said quarterback Mark Sanchez, who was among the most inconsistent Jets. "You have to ask yourself the tough questions and clean things up for next season.
"It doesn't feel good now, but we'll come back and be just fine."
San Francisco (13-3) is just fine thanks to a turnaround season. Under first-year coach Jim Harbaugh, the 49ers will be the No. 2 seed in the NFC behind Green Bay (15-1) after a 34-27 win at St. Louis.
"I'll sit back and watch the games. Let the games begin," tight end Vernon Davis said. "My mind is about to go on a whole new phase, that's the way I see it. We've just got to keep growing, keep trucking."
New Orleans (13-3) is seeded third after a 45-17 win over Carolina.