Broncos coach Vance Joseph reveals the trait that will decide Denver's QB battle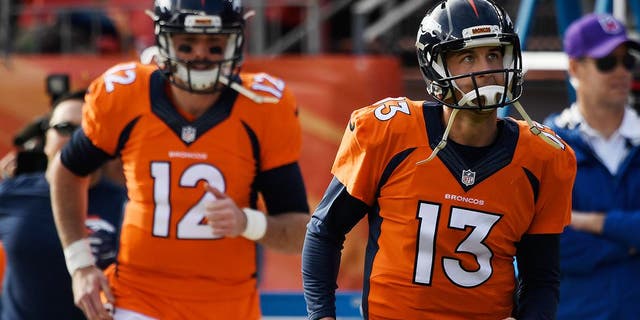 For the past two years, the Denver Broncos have gotten very little production from the quarterback position. Peyton Manning, Brock Osweiler and Trevor Siemian all went through their struggles, leading to an underwhelming offense.
The Broncos hope that changes this season with yet another competition at quarterback. Siemian will be joined by Paxton Lynch in training camp as both players vie for the starting job. Neither is likely to make the Pro Bowl or be the driving force behind a Super Bowl run, but getting consistent play from that positions is a must.
Deciding who will start will be difficult for first-year head coach Vance Joseph, but one particular trait will stand out above the rest.
Id say decision-making is going to be a major factor in who wins the job, Joseph said, via the MMQB. Thats the position in the NFL the guy who makes great decisions with the football, not turning the football over, and the guy who lets his teammates play for him, thats the guy I want to lead our football team. Obviously, ball placement in the pass game, the ability to get us into the best play, those things are important. But it comes down to decision-making thats the biggest factor in this decision Im going to make.
AP/Copyright The Associated Press. All rights reserved.
Siemian did a decent job protecting the football last season, but 10 interceptions in 14 games arent going to cut it with Lynch hot on his heels. In his last season at Memphis, Lynch made great decisions, throwing just four interceptions to 28 touchdown passes.
Obviously, itll be near-impossible for him to keep up that sort of pace in the NFL, but he does have the tools to be a franchise quarterback. Siemian, on the other hand, is known as more of a game manager. And if hes going to embrace that role, hes going to need to do a much better job of taking care of the football.
The Broncos cant afford to have a quarterback who turns it over 15-20 times in a season, especially with their dominant defense. They need a player who can simply keep them in games and let the defense put them in position to win with short fields and defensive scores.
Joseph, being a defensive-minded coach, fully understands that, and itll play a big factor in who he picks to start this season.