Briles takes stagnation in CFP rankings in stride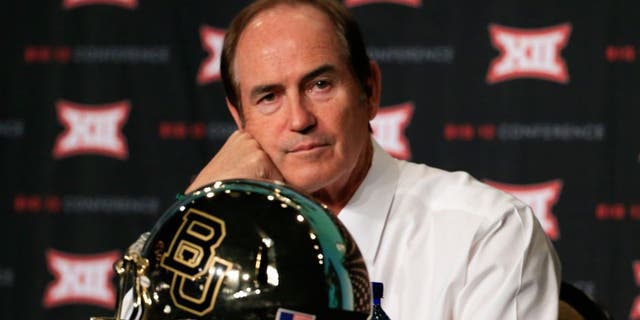 Baylor coach Art Briles isn't concerned that the Bears remained at No. 6 in the College Football Playoff rankings. Kevin Jairaj USA TODAY Sports
Art Briles had reason to complain. But he didn't.
"It's still early in the process and we understand the schedule is real backloaded," Briles said on ESPN's CFP selection show Tuesday night after learning Baylor remained at No. 6. "We can make some noise, but we have to work for that noise."
That starts Saturday night in Waco when one-loss No. 12 Oklahoma comes to town. The Sooners are the first ranked team the Bears will play this season. A win and Baylor moves on to the next challenge of November at No. 8 Oklahoma State on Nov. 21 -- assuming the Cowboys take care of business at Iowa State.
The Big 12 backloaded the schedule so that Baylor, TCU, Oklahoma State and Oklahoma all play each other in November. It also meant that none of the teams had a signature victory on the season because none played an impressive non-conference opponent. So when the CFP selection committee released its first ranking last week, Baylor was the highest-ranked Big 12 team at No. 6.
The Bears escaped Kansas State last Thursday, and apparently the committee used it against Baylor to keep them at No. 6 while Iowa, which narrowly beat Indiana, jumped in front of Baylor all the way to No. 5.
"It's pretty good marketing, taking a chance on how the season goes along," Briles said of the Big 12's backloaded schedule. "It just kind of worked the way the conference thought it would. Fortunately we're still standing there. The great thing is we're in control of our own fate."