Briere likely to play; Pronger channels Dr. Seuss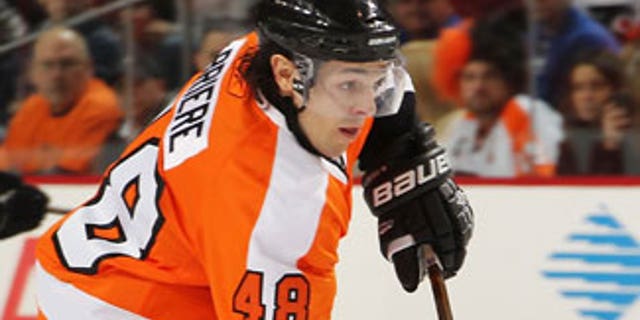 VOORHEES, N.J. -- There was a packed house on the ice here at Virtua Flyers Skate Zone, as three goalies and every skater except for two took part in Thursday's practice.
Two of those skaters were Danny Briere and Blair Betts, both of whom are questionable for Friday's game in Buffalo due to lower-body injuries.
"I thought they both skated well," Flyers coach Peter Laviolette said. "As far as what was on the ice, they looked good."
Flyers GM Paul Holmgren issued a statement that said Briere is possible for Friday with a lower-body injury, but Briere said as good as he felt during Thursday's on-ice session, he was very positive about getting into Friday's game. Briere was scratched about two hours before Sunday's game against the New York Rangers with his injury and sat out Tuesday's game in Ottawa. They're the only games he's missed for injury or illness all season.
"I felt great today," Briere said. "I came in this morning and the pain was gone, which was a good sign. Out there I was able to do everything as far as pushing it, doing all the drills and that stuff. I still have another day and a half before the game, but I'm happy with the way it's looking right now. Right now I'd say I'm probably going to be in, or be able to play tomorrow if he (Laviolette) needs me."
Briere said if it were the playoffs, he would be playing.
"If it would have been the playoffs I would have tried to play Sunday, as well," he said. "Looking back I know it probably would have been a bad decision, but playoffs are a little different."
Betts, listed as doubtful in Holmgren's statement, told NHL.com he would make the trip to Buffalo, so playing could be an option for him as well. He missed the third period of Sunday's game against the Rangers and did not play Tuesday in Ottawa.
"I felt all right," Betts said after practice. "I'm going to make the trip and we'll make a decision tomorrow morning."
Two players did not skate -- forward Claude Giroux, who according to Holmgren was given a "maintenance day," and defenseman Chris Pronger, who still is recovering from a hand injury.
"I feel OK," Pronger said. "It's coming along. I have no timetable. I don't really have much else to tell you. There's nothing I can tell you. I'm on my own timetable. When I'm out there, you'll know."
When asked to respond to a comment by Holmgren where the GM said he believed Pronger had pushed himself too hard to come back earlier, Pronger responded by channeling Dr. Seuss, proving that while his hand might not be 100 percent, his media skills are just fine.
"I'm not going to get into semantics with what happened or what didn't happen, or when I'll be back or won't be back, when I will play or won't play," he said. "It's kind of like green eggs and ham."
Contact Adam Kimelman at akimelman@nhl.com. Follow him on Twitter: @NHLAdamK