Brian Stann: Lawler vs. Condit is a dream fight come true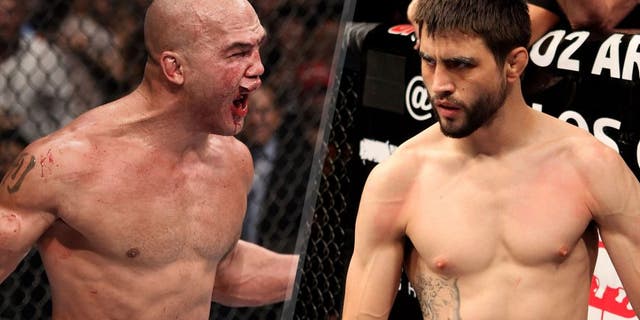 At the close of 2014, when FOX UFC analyst Brian Stann was asked what his dream fight would be for the year ahead, a lot of options were available, but there was one matchup that seemed almost too good to be true.
A welterweight showdown between Robbie Lawler and Carlos Condit seemed like a fight that would put on the kind of jaw-dropping display of action that few fights in history have unleashed.
So when the UFC decided to actually book the fight for Jan. 2 in Las Vegas, Stann and millions of fans from around the world saw a dream come true because Lawler and Condit will finally face off on Saturday night.
"Honest to God, we were doing a preview show for 2015 and when they asked me what my dream fight was I had to make something up because this is my dream fight," Stann told FOX Sports on Wednesday when talking about Lawler vs. Condit.
"It's incredible. When you talk about aggression, tenacity, technique, endurance, these two guys have it. They're good at everything."
Considering Lawler and Condit both have over an 80 percent finishing rate for their careers with a combined 35 knockouts, there's not much of a chance this fight will contend for the best bout in all 2016 and it's taking place two days into the New Year.
Keys to victory
Both Lawler and Condit are known for knockouts, but that doesn't necessarily define how this fight will play out.
Condit has developed a slick submission game that's accounted for a slew of finishes during his career. Meanwhile, Lawler has quietly put together a wrestling game with an 80 percent success rate when attempting takedowns, so there are many different facets to look for when they meet in the Octagon Saturday night.
Stann sees a number of ways each fighter can hurt the other, but he believes one of the biggest keys for Lawler to retain his title is to get in Condit's face and never give him much space to work with from the outside.
"He's got to go out there and put pressure on Carlos Condit," Stann said. "Put pressure on him, cut him off and stop his combinations. As soon as Carlos starts a combination, you need to counterstrike him. Don't let him rip off three, four or five strikes at a time, because with Carlos, that's when he gets really tricky.
"I want to see Robbie Lawler put the pressure on him, corner him, force him to stay in front of him and when Carlos throws a combination, he has to land his own counterstriking."
As for Condit's ways to win, Stann has sparred with "The Natural Born Killer" on several occasions, so he's well aware of the kind of power the prolific knockout artist possesses in his hands and feet.
Condit is not only deadly from a technical aspect, but he's also one of the most creative strikers the sport has ever known. Condit's ability to uncork a flying knee or a head kick from a strange angle is one of the reasons he's deceptive and deadly all at once.
If Lawler isn't careful, he could catch one of those strikes from Condit and watch his title fly back home with a new champion when UFC 195 is over.
"As a guy who used to spar him, when I really started to get in my prime was the only time I was really able to compete with him in striking," Stann said about working with Condit. "During those times, I would have my rounds with momentum, and it was those crafty, creative kicks or weird hooks or spinning strikes that would catch me.
"When he throws those, he throws them with conviction, and those are the ones that hurt you the most. You have to factor in how long Robbie Lawler has been doing this and he has been through a few wars in the last couple of years. When you go through those five-round battles, they take a little bit of you. That's what I wonder with Robbie. Does he still have that insane durability?"
X-factor in the main event
Everyone expects the two main event fighters to put on a war of aggression with punches thrown in flurries and a dazzling display of violence from the first minute until the last, but Stann cautions that Lawler has one weapon in his back pocket that could ground Condit and change the momentum of this fight in a hurry.
Lawler's wrestling is extremely underrated, and it's well-known that Condit's kryptonite has been his inability to stay off his back in several fights in the UFC.
"If you go back and look at all the losses Carlos Condit has had in the UFC, what's the common denominator? It's takedowns," Stann said. "In the Johny Hendricks fight, he was taken down. In the Martin Kampmann fight, he was taken down. You've got to take him down, and the threat of the takedown that he has to defend them with any striker, it limits your arsenal.
"You start to think a little bit more about what you're going to throw. It would be smart for Robbie if he looks for some well-timed takedowns to grind down the control and pace in this fight."
On the flip side, Stann has to wonder if the amount of activity that Lawler has endured over the last two years might not catch up to him while facing an equally dangerous fighter like Condit on Saturday night.
Lawler has engaged in a couple "Fight of the Night" performances that left fans with eyes gaped open in wonder of his performances, but those bloody battles also come at a cost. Stann can't help but question if those back and forth bouts haven't had an ill effect on Lawler because Condit is certainly going to test his chin when they meet in the Octagon.
"When you look at Robbie's activity level over the last two years, he's been incredibly busy. These fights have been tough fights," Stann said. "Johny Hendricks is a tough fight. His last fight against Rory MacDonald was an absolute war. I mean, he was hurt and hurt bad in that fight.
"So this is something where Carlos being less active is something that could be advantageous to him in terms of his durability in this fight. Because all arrows are pointing towards a long, drawn-out bloody battle in this fight."
Popularity contest
Top-five-ranked heavyweight Stipe Miocic could be knocking on the door for a title shot with a win over Andrei Arlovski on Saturday night, but he's still fighting an uphill battle with the UFC in terms of being granted the opportunity.
Miocic revealed earlier this year that he was told that he needed to gain more popularity and recognition with fans to really sell himself as a legitimate title fight contender.
Obviously, fighting ultimately comes down to who is the better man on the night, but there's no denying with the rise of athletes like Conor McGregor and Ronda Rousey that promotion also plays a large part in overall star power.
Stann understands Miocic's frustration over winning in the cage but still seeking fame outside it, but he believes the Ohio native is doing all the right things and an emphatic win over Arlovski on a big stage like UFC 195 is the perfect way to get the kind of attention he needs to earn the title shot.
"I think he's doing everything actually that he can. He's extremely entertaining in his social media and interaction with fans. He, to my knowledge, is top 10 and maybe top five, with how much he interacts with his fans on social media and at events. I've been at several events with Stipe, and he's nonstop engaging with the people who are there. But outside of that, it's tough. It's not easy to just click. Those so many people on the roster now, it's harder than ever before to stand out. It's undeniable," Stann said.
"If he continues to engage with the fans the way he does, he's going to grow in notoriety. He has the personality, he has a great style and over time he'll get there. He had an amazing battle with Junior dos Santos -- had he won that fight, I think it would have put him over the edge into stardom. I think he's one monumental finish, one fight away from getting over the hump and being a legitimate star in the heavyweight division."
Dark horse contender
The attention for most cards always lands on the main and co-main events, but this weekend there are several other showcase bouts worth watching.
Bantamweight knockout artist Michael McDonald returns to headline the UFC 195 prelims airing on FS1 and former rising stars Brian Ortega and Scott Holtzman also have fights this weekend.
But the one fight that Stann looks at with the same kind of anticipation as he has for the main event is the welterweight matchup between Lorenz Larkin and Albert Tumenov.
Tumenov and Larkin have combined for six consecutive knockouts and chances are one of them will add a seventh on Saturday night.
"I've called a couple Albert Tumenov fights, and he's fantastic. I think he's really added some nasty, nasty kicks to an already outstanding boxing game, and he's been a boxer his entire life," Stann said.
"On the flip side, I think Lorenz Larkin has looked excellent at welterweight. When he took on Santiago Ponzinibbio, that's not an easy fight, and I thought he looked fantastic. That fight in particular is the one beside the main event that I'm looking forward to the most. Both guys could make waves in this division."