Brian Stann: Dustin Poirier deserved win over Eddie Alvarez instead of a no-contest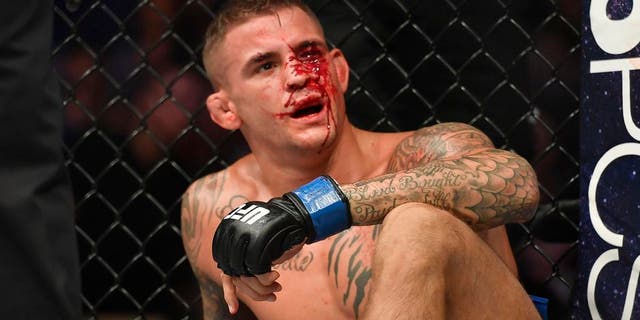 Dustin Poirier left Dallas on Saturday night after a disappointing end to his fight with former lightweight champion Eddie Alvarez due to a trio of illegal strikes that brought about the end of the contest.
It all went down in an action packed second round that saw Poirier and Alvarez on the verge of finishing the fight. Unfortunately the end came after Alvarez had Poirier pinned against the cage where he unleashed a series of knee strikes to the head with the final one nearly knocking out the American Top Team fighter.
The bad news for Alvarez was that Poirier's knees were down on the mat, which meant he was not allowed to throw knees to the head and the strikes were deemed illegal. Despite the foul, Alvarez was not disqualified but instead the strikes were called "accidental" and the fight was declared a no-contest.
"The fight was awesome. Dustin Poirier was putting on perhaps his best performance since he's moved to lightweight. Maintaining his range, combinations, he hurt Alvarez bad. Then Alvarez showed off his heart. He was hurt significantly, fought his way back into this fight and then here come the knees. All clearly illegal. These are not the new rules, these are the old rules and it wouldn't matter anyways," UFC analyst Brian Stann explained on the UFC 211 post fight show on FS1.
"Now the decision is made to call it a no contest. A DQ [disqualification] and a no contest. No. These are illegal moves. That should be a disqualification, a win for Dustin Poirier, who was most likely up two rounds to none."
Probably the hardest part for Poirier is that he misses out on half of his contracted salary for the fight because he won't receive a win bonus due to the bout ending in a no contest.
Stann knows that Alvarez isn't a dirty fighter but the strikes he landed were still illegal and should have been treated as a foul that brought about the end of the fight.
Instead, Poirier walks away with a no contest, half his pay and no satisfaction despite the fight ending due to an illegal blow.
"Look I get it, Eddie Alvarez is in a fist fight, he's not thinking through that, but regardless, it's still a foul," Stann said. "If you're going to make the rule and it's going to be a foul then treat it as a foul and say OK nobody wins.
"It's not how it's supposed to go."
Jeff Bottari/Zuffa LLC | Zuffa LLC via Getty Images