Brewers' heart of the order among best in NL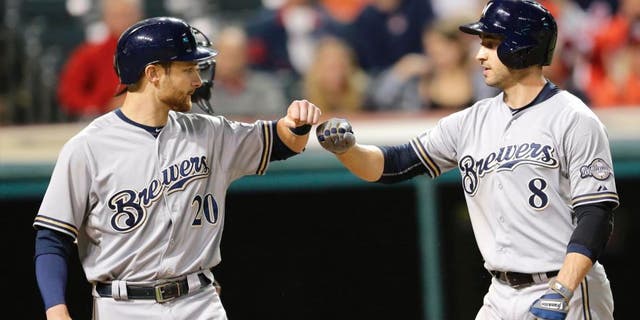 When it comes to the heart of a batting order, few teams are getting better production than the Milwaukee Brewers.
The No. 3 and 4 hitters in Milwaukee's lineup top any other combination in the National League in batting average, slugging percentage and OPS and are near the top in several other categories.
BREWERS COMBINED STATS FOR 3 & 4 HITTERS

The Brewers can mainly thank Ryan Braun and Jonathan Lucroy. Braun has started 56 games and each time he has batted third in the lineup. Lucroy has started 60 games. Of those, 13 times he has batted third ad 47 times he hit fourth.
The only other player to bat third for Milwaukee this year was Scooter Gennett, who did it once back on May 19 (he went 2 for 4, by the way). In the cleanup spot, Chris Carter has appeared there 21 times while Domingo Santana and Kirk Nieuwenhuis both batter there once.
Braun has done a lot of his damage in Milwaukee victories. In the Brewers' 27 wins, Braun is hitting .379 with a .451 on-base percentage and .705 slugging percentage. That includes 10 home runs, not to mention 24 RBI and 25 runs.
Carter has hit 18 home runs this season, which is the third-most by any player in the majors playing in his first season with a team. Baltimore's Mark Trumbo tops the list with 20. Oakland's Khris Davis, traded to the A's by Milwaukee in the offseason, is fifth with 16.
Other notes:
-- Since moving to the National League, Milwaukee is 3-5 against Oakland.
-- Oakland has the highest winning percentage at home in interleague play since 2010 at .702 (40-12).
-- The A's are 4-12 in June, the worst record in the American League during the month.
-- Better to play the A's away from Oakland. Their pitching staff has a 5.51 ERA on the road but 3.97 at home.
Statistics courtesy STATS Inc.