Brazilian soccer star Marta is ready for knockout challenge against Australia in Women's World Cup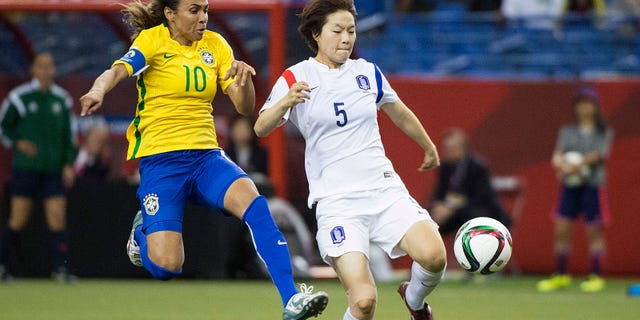 ASSOCIATED PRESS – Brazilian star Marta is rested and ready for the knockout stage at the Women's World Cup.
The 29-year-old striker sat out of Brazil's final group-stage match against Costa Rica, with her team already assured a spot in the next stage. The seventh-ranked Brazilians will play No. 10 Australia in the knockout round on Sunday in Moncton, New Brunswick, on Canada's far eastern coast.
"It's a different moment all together — it does not allow us to make mistakes, it does not allow us to lose and recover the next time, because there will not be a next time," Marta said Saturday through a translator. "We have to be precise. We have to be focused for a final, because every game from now on is a final."
Brazil won all three matches in its group, and is the only team to advance without conceding a goal in the opening stage.
Brazil has been to every World Cup since the women's version started in 1991. The team's best finish was runner-up in 2007, when the Brazilians lost 2-0 to Germany in the final.
That was Marta's second World Cup.
Known simply by her first name, Marta Vieira da Silva is arguably one of the best women to ever play the game. She was named FIFA Player of the Year an unprecedented five straight times from 2006-10.
In Brazil's opening group-stage game against South Korea, she scored on a penalty kick, becoming the career leading scorer in the Women's World Cup with 15 goals.
Marta hopes to ride Brazil's winning streak all the way through to the World Cup final in Vancouver on July 5.
"We are very at peace with ourselves, with our roles, with our quality, and what we need to do," she said.
Australia survived Group D, the so-called Group of Death, finishing second behind the second-ranked United States after a 1-all draw with No. 5 Sweden in the group finale.
The Matildas, in peak game shape after facing two top-five teams, have speed on their side, defender Elise Kellond-Knight said.
"I think we're a very dynamic team and the Brazilians may have a little bit of a weakness in their backline in terms of pace," she said. "So if we can exploit that, I think we'll end up with a really good result."
The two teams have met twice before in the World Cup, with Brazil winning both matches.