Brazil-Bound! U.S. Headed To 7th Straight FIFA World Cup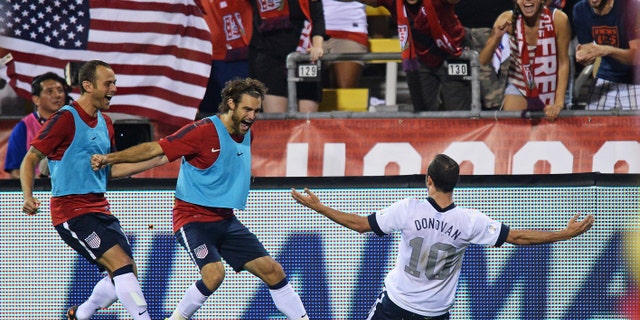 "Dos a cero! Dos a cero!"
That's what the red-white-and-blue-clad crowd at Columbus Crew Stadium was chanting over and over.
On Tuesday evening, the United States qualified for its seventh straight World Cup and is now looking ahead to the draw on Dec. 6 and next year's tournament in Brazil.
"I feel good about our chances," goalkeeper Tim Howard said. "We'll see what the draw looks like."
America returned to soccer's top event in 1990 after a 40-year absence, and first-round exits in '90, 1998 and 2006 were mixed in with second-round trips in 1994 and 2010, plus a trip to the quarterfinals in 2002.
"It would be nice to do something special," Clint Dempsey said.
The U.S. ensured it will be Brazil-bound after Eddie Johnson and Landon Donovan scored second-half goals in the now traditional 2-0 home qualifying win over Mexico on Tuesday night.
"It's become its own monster. People want to come to Columbus and see U.S.-Mexico. And so it's almost like the mecca really for us," Howard said. "You almost feel like it's our destiny to win here."
Noisy American fans stood and sang starting 1½ hours before kickoff, and about 1,000 stayed for an hour after the final whistle. The U.S. needed a win or a tie from Honduras against Panama to clinch with two games to spare, and the American supporters watched on the videoboard as the Catrachos held on for a 2-2 draw.
U.S. players crowded around a television in their locker room, and then sprayed bubbly and came back on the field to celebrate with the fans.
Following wins over Mexico in qualifiers by identical 2-0 scores at Columbus in 2001, 2005 and 2009, the U.S. Soccer Federation picked the same venue for this year's match. The capacity crowd of 24,584 taunted the Mexicans with chants of "You're not going to Brazil!"
"I think it really got into Mexico's head, especially when we scored that first goal. You could see it on Mexico'sface. They were really defeated," American defender Omar Gonzalez said. "From that point on we really took control of the game."
And it boosted the U.S., 24-0-2 in home qualifiers since a 2001 loss to Honduras at RFK Stadium in Washington, D.C.
"It carries them. It gives them energy. It gives them confidence," U.S. coach Jurgen Klinsmann said. 'It is a psychological game at the end of the day, and I think you could feel it in the body language of the Mexican players once they didn't get a goal that they tried really hard for the first 20, 25 minutes."
After withstanding early Mexican pressure, the U.S. got the breakthrough in the 49th minute when Johnson outjumped defender Diego Reyes to meet Donovan's corner kick 8 yards out and head the ball past frozen goalkeeper Jesus Corona.
With Mexican shifting to an offense-minded 3-4-3 formation, the U.S. scored in the 78th following a throw in when Mix Diskerud threaded the ball across the middle. Dempsey got the slightest of touches as he slid into the goalmouth, and the ball went past defender Hiram Mier as Donovan poked the ball in from 2 yards.
The U.S. (5-2-1) moved into first place in the North and Central American and Caribbean finals with 16 points, one ahead of Costa Rica (4-1-3), which was held to a 1-1 tie at last-place Jamaica and also clinched.
Honduras (3-3-2) is third with 11 points and on track for the region's final automatic berth for the 32-nation field for Brazil next June. Panama moved ahead of Mexico (both 1-2-5) on goals scored for fourth place, which advances to a playoff against Oceania champion New Zealand.
Mexico is in danger of missing the World Cup for the first time since 1990. Its remaining games next month are home against Panama and at Costa Rica.
"This a team that could and should play better," said Luis Fernando Tena, who replaced Chepo de la Torre asMexico's coach following Friday's 2-1 home loss to Honduras. "It has to take a step forward if we want to make it to the World Cup."
Now the Americans can take it easy in their final two qualifiers, against Jamaica on Oct. 11 at Kansas City, Kan., and at Panama four days later. Exhibitions are likely at Scotland and Austria in November.
Klinsmann is unbeaten against Mexico as a player and coach, with four wins and four draws. He won the World Cup as a player with Germany in 1990 and coached his native country to the 2006 semifinals. He's lived in California for 15 years and understands both the accomplishment of reaching the World Cup and the need to build confidence in a team he took over two years ago.
"I think we're young enough at the moment that these next six to eight months we're going to grow, and I think we're going to get better," Howard said. "I really like the mix. I like the mix with the Mexican-Americans, the German-Americans, a lot of young guys sprinkled in with some of us old guys. I just think the mix is right, and we just need to mature a little bit more."
Based on reporting by The Associated Press.
Follow us on twitter.com/foxnewslatino
Like us at facebook.com/foxnewslatino