Braves re-sign veteran catcher Pierzynski to 1-year deal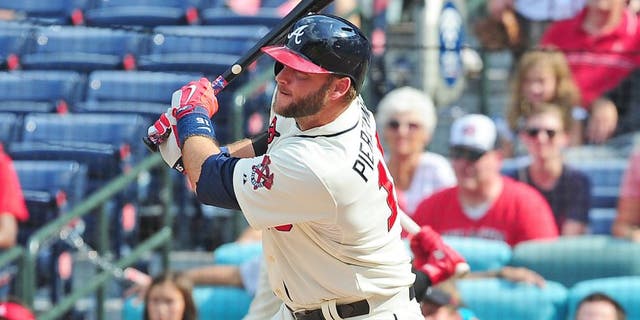 ATLANTA -- Veteran catcher A.J. Pierzynski will return for another season with the Atlanta Braves after agreeing to a one-year, $3 million contract.
The 38-year-old Pierzynski was a rare bright spot for the Braves this past season. Signed to serve mainly as a backup, he wound up handling the bulk of the catching duties, hitting .300 with nine homers and 49 RBI in 113 games.
A two-time All-Star, Pierzynski has played at least 100 games each of the past 15 seasons. He could be in for another heavy workload if Christian Bethancourt continues to struggle.
Bethancourt was supposed to take over the starting duties but wound up spending most of the year in the minors. He batted .200 with two homers and 12 RBI in 48 games for Atlanta.
Pierzynski gets a $1 million signing bonus, payable Dec. 1, and a $2 million salary. He can earn $1 million in performance bonuses based on starts at catcher: $50,000 each for 55 and 60; $100,000 apiece for 65 and each additional five through 90; and $150,000 each for 95 and 100.