Braves offseason preview: A few additions could speed up rebuild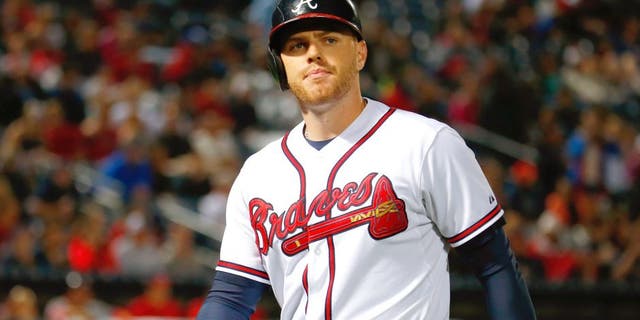 NEWYou can now listen to Fox News articles!
(We will preview one team's offseason each day leading up to the start of free agency. Now up: the Atlanta Braves.)
The Braves just wrapped up their worst season in 25 years, finishing 23 games back in the NL East with a 67-95 record. But it wasn't entirely unexpected, as the franchise committed itself to a renovation this year.
In the midst of a rebuilding effort focused on jettisoning hefty contracts and stockpiling young talent, the Braves might still be a few years away from being the perennial contender that they were from the early 1990s to mid-2000s.
However, history suggests there might be hope for Atlanta in 2016 if the right moves are made, as the last time the Braves lost 95 or more games, they responded the following season in 1991 by making it to the World Series.
Three things Atlanta must address this offseason:
1. Add some pop to the lineup. The Braves scored the fewest runs of any team in MLB in 2015 (573), averaging a mere 3.5 runs per game. Outside of first baseman Freddie Freeman, who drove in a team-high 66 runs in 118 games in 2015, Atlanta's roster is devoid of power after it parted ways with Justin Upton, Jason Heyward, Evan Gattis and Chris Johnson, who accounted for 48 percent of its run production in 2014.
While the Braves have a surplus of talented young arms in their farm system, they don't have any major-league ready boppers to call up from the minors, which makes it imperative that they acquire at least one power hitter in the offseason if their goal is to contend in 2016.
Rookie Cuban infielders Adonis Garcia and Hector Olivera are poised to bolster the Braves batting order, but there will likely be growing pains for at least one of them in their first full major-league seasons.
The positions where the Braves would likely look to add some pop are at catcher and the corner outfield positions, as left fielder Nick Swisher and right fielder Nick Markakis don't have the pop they used to, and catcher and impending free agent A.J. Pierzynski will turn 39 this offseason.
If the Braves don't re-sign Pierzynski, a potential pickup who could add some life to Atlanta's offense would be Orioles catcher Matt Wieters, who might be a steal on the free-agent market.
2. Evaluate their young arms. Shelby Miller, who dreadfully lost 17 games in 2015 despite a 3.02 ERA, and Julio Teheran headline the Braves rotation, but the back end is a set of jumbled puzzle pieces. Rookies Williams Perez, Matt Wisler, Manny Banuelos and Mike Foltynewicz all flashed potential, but allowed a combined 5.02 ERA in 2015.
While those numbers are inflated due to Atlanta's poor defensive efficiency rating of .682 (25th in MLB), the Braves will have to decide which pitchers will be in it for the long haul as they attempt to build a formidable homegrown rotation.
Now that Alex Wood has been traded to the Dodgers, the Braves need a reliable No. 3 starter behind Miller and Teheran. That figured to be Foltynewicz, but the 23-year-old righty proved he might not be big-league ready yet by posting a 5.71 ERA with a .313 opponent batting average this season.
There needs to be less mixing and matching at the back end of the rotation and more reliability from the Braves young starters if they are to succeed in 2016.
3. Build a bullpen. Outside of closer Jason Grilli, who is recovering from an Achilles injury as he prepares for his age-39 season, Atlanta doesn't have much of a bullpen to speak of, which is evidenced by its 4.67 ERA (29th in MLB), .264 opponent batting average (28th), and 217 walks allowed (26th) this past season.
Veteran starter Edwin Jackson had a surprisingly good season out of the 'pen, and Arodys Vizcaino showed promise for the future, but the Braves traded away a couple of their best relievers in Jim Johnson and Luis Avilan.
If Atlanta chooses to use the free agency to nab a few key bullpen additions, veteran righty Brad Ziegler might be available if the Diamondbacks don't exercise their team option on him, and Joakim Soria, Manny Parra and Brian Duensing are all veteran relievers who will be on the market this offseason.