Brady rallies Patriots past Seahawks, 28-24, to win Super Bowl title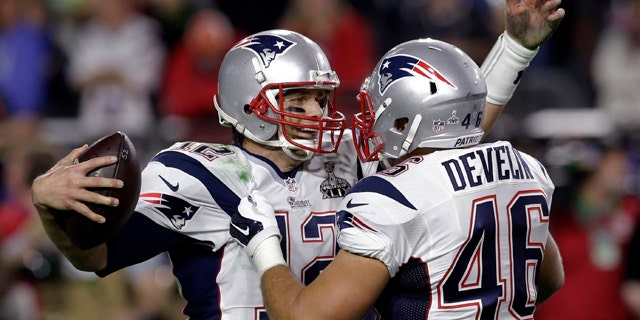 Tom Brady's three-yard touchdown pass to Julian Edelman with 2:02 left helped the New England Patriots come back from a 10-point fourth-quarter deficit to defeat the Seattle Seahawks, 28-24, in Super Bowl XLIX in Glendale, Ariz.
Seattle quarterback Russell Wilson drove Seattle down to the New England 1-yard-line, but was intercepted by Malcolm Butler with 20 seconds remaining to deny the Seahawks becoming the the first repeat NFL champions in a decade. The Seahawks surprisingly opted not to give the ball to All-Pro running back Marshawn Lynch, who finished with 102 yards and a touchdown, on what turned out to be the final offensive play of their season.
The win was the fourth Super Bowl title for New England, led by the duo of Brady and head coach Bill Belichick, who tied former Steelers coach Chuck Noll with the most Super Bowl wins by a head coach.
Brady, who won his third Super Bowl MVP trophy 11 years after winning his second, set a Super Bowl record with 37 completions and finished with 328 yards passing in addition to four touchdowns and two interceptions. Brady also became only the third quarterback in NFL history to win four Super Bowls and only the second, after his childhood idol Joe Montana, to win three Super Bowl MVP awards.
As the Patriots ran out the clock, players on both sides fought and Seahawks linebacker Bruce Irvin was ejected. Minutes later, New England players were mobbing one another on the same field where their 2007 unbeaten season was ruined in the Super Bowl by the Giants. They also fell to the Giants for the 2011 title.
Down 10 to start the fourth, Brady began New England's rally with a 76-yard drive capped by a 5-yard touchdown pass to Danny Amendola to get New England within a field goal with 7:55 remaining in regulation to make the score 24-21, Seattle.
Brady's two fourth-quarter touchdown passes gave him 13 over six Super Bowl games, passing Montana's old record of 11.
If Seattle had held on, the MVP honors might have gone to unknown receiver Chris Matthews, who made his first four career catches for 109 yards and a touchdown.
Seattle scored the first 10 points after Katy Perry's halftime show, as Matthews made a 45-yard catch to set up a 27-yard Steven Hauschka field goal that gave Seattle its first lead, 17-14. On the ensuing possession by New England, All-Pro linebacker Bobby Wagner stepped in front of Brady's pass to Rob Gronkowski and returned 6 yards to the Patriots 34. Wilson had a 15-yard run and Lynch ran 14 yards before a 3-yard TD pass to Doug Baldwin, who drew an unsportsmanlike penalty for his celebration, made it 24-14, Seahawks.
The teams got down to football under the open retractable roof at University of Phoenix Stadium -- the first venue to host an indoor and an outdoor Super Bowl -- after dealing with distractions far beyond the typical Super Bowl hype. The Patriots are being investigated for using under-inflated footballs in their 45-7 win over Indianapolis in the AFC championship game.
It was a game of spurts by both teams, at times looking like a Patriots blowout, then appearing to be a repeat coronation for Seattle, which had a vast majority of the fans among the 70,288.
Jeremy Lane made the first big play to negate a nearly eight-minute drive by the Patriots with a leaping interception at the goal line late in the first quarter. Lane, a third-year backup Legion of Boom member, made his first pro interception, but left with a wrist injury after being tackled by Julian Edelman.
His replacement, Tharold Simon, got torched by Brady for much of the remainder of the contest.
Wilson was getting no time to look downfield and he didn't get off a pass in the first quarter. When Brady completed his record 50th postseason TD throw, 11 yards to Brandon LaFell against Simon, it was 7-0 in the second quarter.
Seattle went to its bench to help tie it.
Matthews' first career catch, a reaching, twisting 44-yarder over Kyle Arrington and by far the longest first-half play for Seattle, led to Lynch's bruising 3-yard TD run to make it 7-7.
But Brady's 22-yard pass to Gronkowski with 31 seconds left in the half made it 14-7, New England, and seemed to finish off a dominant first half for the Patriots. Except no one told the resilient Seahawks.
A dormant offense turned dangerous in a span of 29 seconds, covering 80 yards in five plays, including a late gamble. After Ricardo Lockette caught a 23-yard pass and Arrington was flagged for a facemask, it put Seattle at the 10 with 6 seconds remaining. Never one to shy away from a challenge, coach Pete Carroll went for it and the new Seahawks hero, Matthews, grabbed Wilson's pass in the left corner of the end zone.
It was the most lopsided halftime tie imaginable.
Then Seattle stormed to a 24-14 lead in the third quarter on Hauschka's field goal and Baldwin's touchdown catch from Wilson. New England was stumbling -- until Brady once again stepped up.
"It was a lot of mental toughness," Brady said. "Our team has had it all year. We never doubted each other, so that's what it took."
The Associated Press contributed to this report.