Boykin, No. 2 TCU outlast Minnesota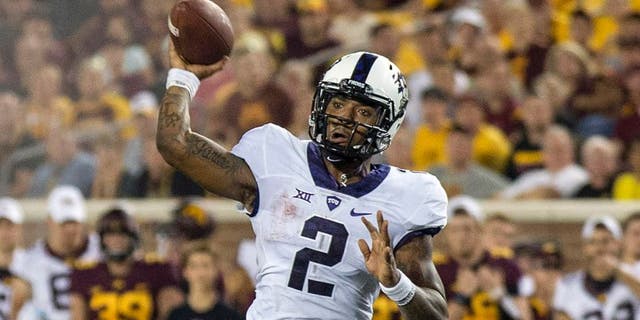 Longtime friends TCU coach Gary Patterson and Minnesota coach Jerry Kill met at midfield after another tough game and shook hands.
"He said, 'We're never going to play each other again,'" Kill said. "I said, `That's right.'"
The second-ranked Horned Frogs enter this season with national championship aspirations, and the Golden Gophers showed them just how difficult that pursuit is going to be.
Trevone Boykin threw for 246 yards and a touchdown and ran for 92 yards and another score to help the Horned Frogs outlast Minnesota 23-17 on Thursday night.
Boykin started his Heisman push by completing 26 of 42 passes. But he also threw an interception and the Horned Frogs had a difficult time getting their frenetic offense rolling against Minnesota's determined defense. The 23 points were their fewest scored since Nov. 9, 2013, in a 21-17 victory over Iowa State.
"If you had your perfect ballgame so everybody learns a lesson, this would be it," Patterson said. "Because we found out it's not going to be easy."
Jaden Oberkrom made three field goals, including a 53-yarder, and Josh Doctson had eight catches for 74 yards and a touchdown for TCU.
Mitch Leidner was 19 for 35 for 197 yards for Minnesota. His touchdown pass to K.J. Maye with 1:32 left pulled the Golden Gophers within a touchdown, but TCU recovered the ensuing onside kick to hang on.
Maye had four catches for 73 yards and Rodney Smith rushed for 88 yards and a touchdown for the Golden Gophers. They haven't beaten a Top 10 team at home since 1977.
Kill was a member of Patterson's wedding party, and the two coaches have said they weren't entirely pleased about the matchup, with both preferring the Kansas State-style nonconference schedule filled with cream puffs and pushovers.
The Gophers visited Fort Worth last year, losing 30-7 to a team that wound up averaging 46.5 points per game and sharing the Big 12 title.
The Horned Frogs still missed the four-team playoff field. They've heard nothing but questions about the crushing disappointment for the last nine months, providing plenty of motivation to erase that memory with a national championship run this season.
Boykin wasn't particularly sharp in the opener. He missed two wide open receivers down the field for easy touchdowns, including Shaun Nixon all alone in the end zone in the fourth quarter. He also threw an interception right to cornerback Eric Murray in the second quarter and was nearly picked by a leaping De'Vondre Campbell.
"Just too anxious or whatever you want to call it," Boykin said. "But that's just something that can't happen."
He showed just enough flashes of electricity to walk out a winner, especially when he dusted Murray with a nifty juke to turn a keeper into a 19-yard touchdown run in the third quarter that gave TCU a 17-3 lead.
Boykin looked sharp in comparison to Leidner, the junior who lost his two biggest weapons from last year -- tight end Maxx Williams and running back David Cobb -- to the NFL draft. The Gophers opened the game with five punts and a fumble by Leidner on a sack from Terrell Lathan that set up Boykin's 11-yard TD pass to Doctson.
Rodrick Williams also fumbled the ball out of the back of the end zone about 1 yard away from a touchdown, and the two turnovers proved costly in a one-score game.
"We clean up a few things here and there and we know we're going to be great," Leidner said.
The Horned Frogs' biggest question entering the season was on defense after losing six of their top seven tacklers from last year's unit. They also were missing sack leader James McFarland and senior defensive tackle Davion Pierson, who did not play for unspecified reasons. The inexperienced defense responded by forcing five punts in the first six possessions.
The other one ended when Terrell Lathan sacked Leidner and forced a fumble to set up Boykin's 11-yard TD pass to Doctson that gave TCU a 10-0 lead early.
"It just gives us a lot of confidence in what we can do," said defensive end Josh Carraway, who recovered Leidner's fumble. "It just gives us energy that we can build on."