Boxer Edgar Santana, The Pride of Spanish Harlem, is Back on Track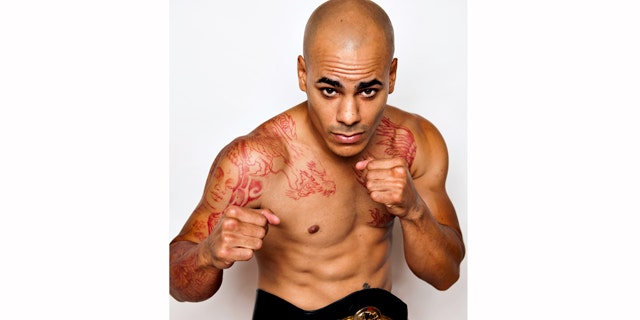 They call him "The Pride of Spanish Harlem."
Edgar Santana, 32, demolished an unknown opponent from Detroit in March in a bout in the Bronx. In August, he became the NABA champion with a victory over Omri Lowther with a fifth round TKO.
These weren't just victories any professional fighter would take pride in. For Santana, a welterweight boxer, whose trademarks include a wicked overhand right and deadly double left hook, the wins marked something else – a comeback.
A promising boxer, and a popular prospect at the time, Santana's career screeched to a halt after he was arrested for a minor role in a cocaine trafficking operation in 2008. After a four-month sentence at Rikers Island, Santana returned to freedom with the goal of getting his life back on track.
It wasn't easy, but Santana remained determined.
"It was a little harder than I thought," Santana said, of the beginning of his return to boxing. "They weren't giving me much of a chance. They didn't want to give me breaks. It was kind of hard for me to get a fight."
Eventually, Santana got a couple of fights, and they led him to his third fight since his comeback.
This fight was for the NABA Junior Welterweight Championship.
"I finally got that chance," Santana said of being scheduled to fight after prison, "and two fights later, I'm fighting for the NABA. I was pretty lucky. I felt great for winning, that I got that opportunity."
On Dec. 2, Santana is scheduled to work his magic in the ring at Dover Downs Hotel & Casino in Delaware.
Santana, who is the subject of a documentary-in-progress that is to be titled "The Pride of Spanish Harlem," had it tough well before his arrest.
He was 8-years-old when his family moved from a suburb of his native Puerto Rico to Spanish Harlem. The environment was different, Santana pointed out.
"The streets being infested with drugs, and that was a huge difference compared to [Puerto Rico]," he recalled.
Still, though growing up was tough, he said it helped shape him as a person.
"Spanish Harlem really made me the person I am," Santana said. "It wasn't easy. My family had to struggle, we all had to struggle. It kind of stressed me."
The gym and working out provided outlets, and something positive on which to focus his mind and energy.
Earlier this year, Santana, known in the sport as "El Chamaco," or "The Kid," told a reporter that he quickly realized as a youth that he needed to channel his thoughts and energy toward something productive.
The wake-up call may have come when Mickey Rosario, a trainer at a gym on 112th Street, saw him goofing off with some friends and warned: "You got to take life more seriously, because a lot of you won't make it to 18," Santana recalled being told.
Boxing became his motivation from early on, Santana explained, calling it his "gift."
"I was kind of lucky that I had a gift and went for it," he said. "I found out what I was good at and I worked hard at it."
The boxer says he feels his fans have high expectations of him, but it motivates him in the ring.
"When I fight, it's like I'm fighting with a lot of pressure, I'm fighting with a lot of people on my back," Santana said. "Puerto Rico, Spanish Harlem, they all come out to support me, because they can relate to me. I came from where they came from, and I been through, I ran the streets, I been through whatever they been through, and probably more."
Santana says he has a deep love for the Latino community – especially his fellow Puerto Ricans – for whom he has this message: "We got to stick together, as Latino and find ways to become an example for the next generation."
To the young, he stresses the importance of a solid education.
"The key is to stay in school," Santana said. "You find something you're good at, just go for it."
Everyone, he said, can find their calling.
So, does he see his future as all about boxing? Not at all, Santana says. His other passion is a barber shop he owns in Spanish Harlem. One of his main goals outside of boxing is to continue his work there, and open up a few more if he can.
For now, there are the documentary and future fights.
The documentary will portray Santana's personal and professional redemption.
According to a press release on the project, Santana's story will give viewers an insight into the boxing world. The film will include scenes from the boxing gym, Santana's barber shop and fight venues from the Bronx to Delaware and elsewhere.
Tickets for the Dec. 2 event are on sale now, ranging from $35 to $200. The first bout will begin at 7:30 p.m. Doors will open at 6:30 p.m. Further information will be posted on www.doverdowns.com.
E. J. Aguado Jr. is a freelance reporter based in New Jersey.
You can reach E.J. Aguado at: aguado91@gmail.com or via Twitter: @Aguado91
Follow us on twitter.com/foxnewslatino
Like us at facebook.com/foxnewslatino