Bowyer apologizes in call to Newman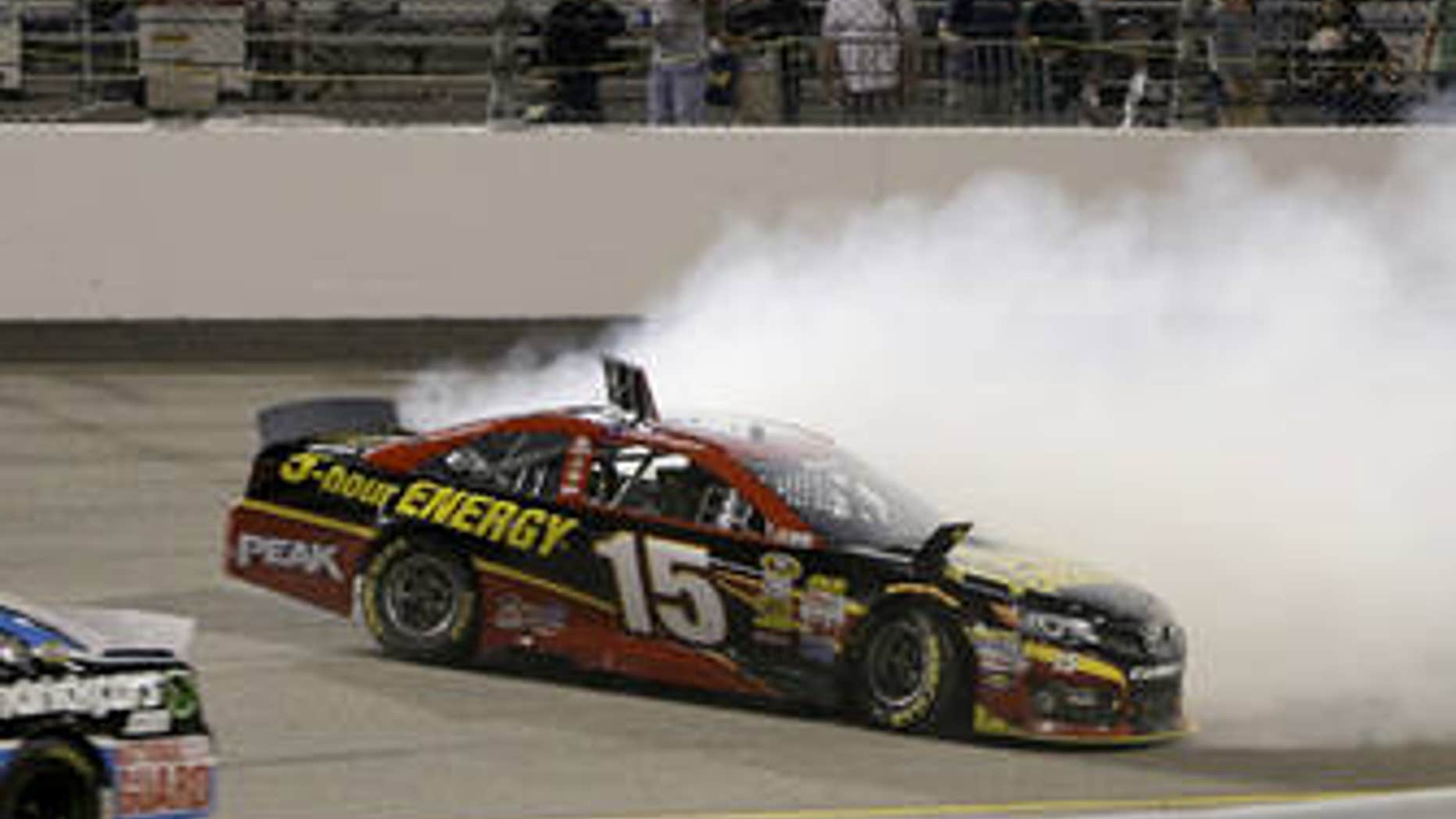 Six months ago, Clint Bowyer and Ryan Newman made plans to do some late September hunting in Wyoming.
But Saturday night, Newman and Bowyer were joined together in another way. Newman may have lost a victory when Bowyer spun out late, perhaps as part of an elaborate scheme to alter the finish of the race at Richmond International Raceway and possibly the outcome in the Chase to the Sprint Cup.
Though Bowyer joked Wednesday that he called Newman to make sure he still had a ride for the hunting trip, an apology was also central in the call from the No. 15 Michael Waltrip Racing driver.
Still, Bowyer insists his spin at Richmond, which triggered the final caution as Newman led the race, was not intentional.
On Monday, Newman said Bowyer's spin "changed everything." However, once NASCAR penalized each of the MWR cars 50 points -- which allowed Newman a spot in the Chase and moved Martin Truex Jr. out -- Newman reserved comment on his conversation with Bowyer and on whether he buys his explanation.
Newman accepts Bowyer's mea culpa but still has mixed emotions regarding the turn of events.
"I'm happy he made the phone call, and I'll leave it at that," Newman said. "I thought it was very professional of him to at least call and air his feelings. I was extremely disappointed by the chain of events once I got out of the racecar, hurt. Saw some of the rumblings of what was going on. It was more disbelief -- and anger -- but more disbelief than frustration.
"But I was happy that NASCAR stepped up and made a decision because that was important for the integrity of our sport. Our sport is so different than every stick-and-ball sport out there. I'm hoping that 99.9 percent of it is behind us, but I have bittersweet feelings that my buddy Truex is not in the Chase, and I know he raced his heart out no different than I did to end up in a tie. To have it taken away from him, I know exactly how that feels because I was in that position Saturday night."
Although Newman has endured his run-ins with NASCAR, he believes the sanctioning body could not afford to be complacent in this case.
"The financial side of it, the points side of it, you can argue about the numbers until you're blue in the face," Newman said. "But in the end, they made a decision and they stuck with it."
Newman acknowledged he's never been in a situation "where team orders played out in that form or fashion," as was the case Saturday night. However, he can appreciate the pressure Bowyer was feeling.
"There are only 43 guys -- and a girl -- on every Sprint Cup weekend that understand the emotions of what we got through and the situations we go through and the thoughts that go through our minds," Newman said. "That happens to almost everybody.
"I do believe that he feels a sense of remorse for what happened and how it worked out. But in the end, we all do what we do for a given reason. I had a conversation with Clint that was private and will stay private, but I understand a little bit better his frustrations."
Moving ahead, Newman would advocate NASCAR officials monitoring team radios more closely to ward off the possibility of a similar conspiracy in the future, allowing it to be settled the day of the race and not 48 hours later.
"There are enough people sitting up in the booth -- or a booth -- that have the power to listen," Newman said. "The technology is there; it's been for the last 20 years or however long we've had radios inside the car. There's no question about the potential of what we could do. I think if you were a sanctioning body, you would want to do that to protect -- and become as close so you can to having that instant replay so could officiate a little quicker when needed."
Newman believes the best way to put "Spingate" behind him is to win the Sprint Cup championship. Although he had a problem with his final pit stop Saturday, he considered the faux pas an isolated incident. And though this is his final season with Stewart-Haas Racing in the No. 39 Chevy, Newman said he doesn't feel like a lame duck.
"We've been one of the strongest cars in a group of probably three or four for the last six or eight weeks," he said. "No matter what, we can do it. We all have bad pit stops. One of the best teams had a bad stop at Indy, and we were able to beat those guys, and they're probably someone we'll be racing for the championship.
"I'll continue to stand behind my guys and hope that they stand behind me."
Given his recent track record with Bowyer, however, standing behind him might not be the safest place given the upcoming hunting trip.
"That threw a little loop into the situation, but I think we're all good," Newman said. "Hopefully, he's not that good of a shot."