Boston Red Sox's 'Big Papi' Pays President Obama A Visit, Scores A Selfie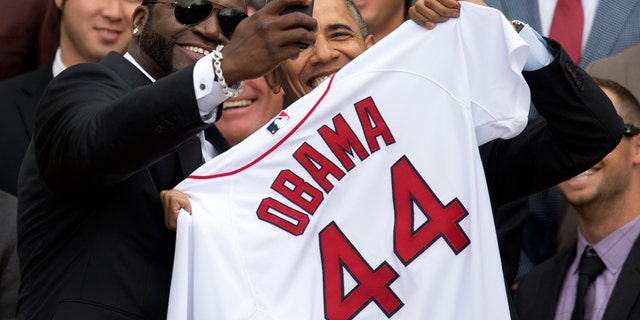 WASHINGTON (AP) – President Barack Obama welcomed World Series champions the Boston Red Sox to the White House Tuesday, praising their triumph on the field while hailing them as a symbol of their city's "grit and resilience" in the wake of last year's Boston Marathon bombing.
Not all of the ceremonial greeting was quite so serious. David Ortiz, Boston's best-known player who is known as "Big Papi," presented the president with a Red Sox jersey emblazoned with "Obama" and the number 44 on the back then took a selfie of himself and the chief executive.
"What an honor, thanks for the #selfie @BarackObama" he quickly tweeted.
Jonny Gomes, an outfielder, strolled across the White House grounds dressed in a sports jacket that looked like an American flag, stars on one side, and stripes on the other.
Standing in front of players and team officials, Obama noted that the Red Sox have won three championships in the past decade, more than any other team.
He said sports sometimes "seems like it's trivial, it's just an entertainment. And then, every once in a while, you're reminded that sports represents something else and it has the power to bring people together like almost nothing else can."
Three people were killed and more than 260 injured nearly a year ago in a bombing at the Boston Marathon. The Red Sox staged a tribute to the victims on the field and had "Boston Strong" symbols sewn into their uniforms.
"The point is, Boston and the Red Sox were one," Obama said. "When they visited bombing victims in the hospital, when they played ball with kids getting cancer treatment, when they started a program to help wounded warriors get treatment at Mass General (Hospital), these guys were saying, 'we're all on the same team.' "
Obama, a Chicago White Sox fan, wished Boston good luck this season, then added, "May the best Sox win."
Follow us on twitter.com/foxnewslatino
Like us at facebook.com/foxnewslatino