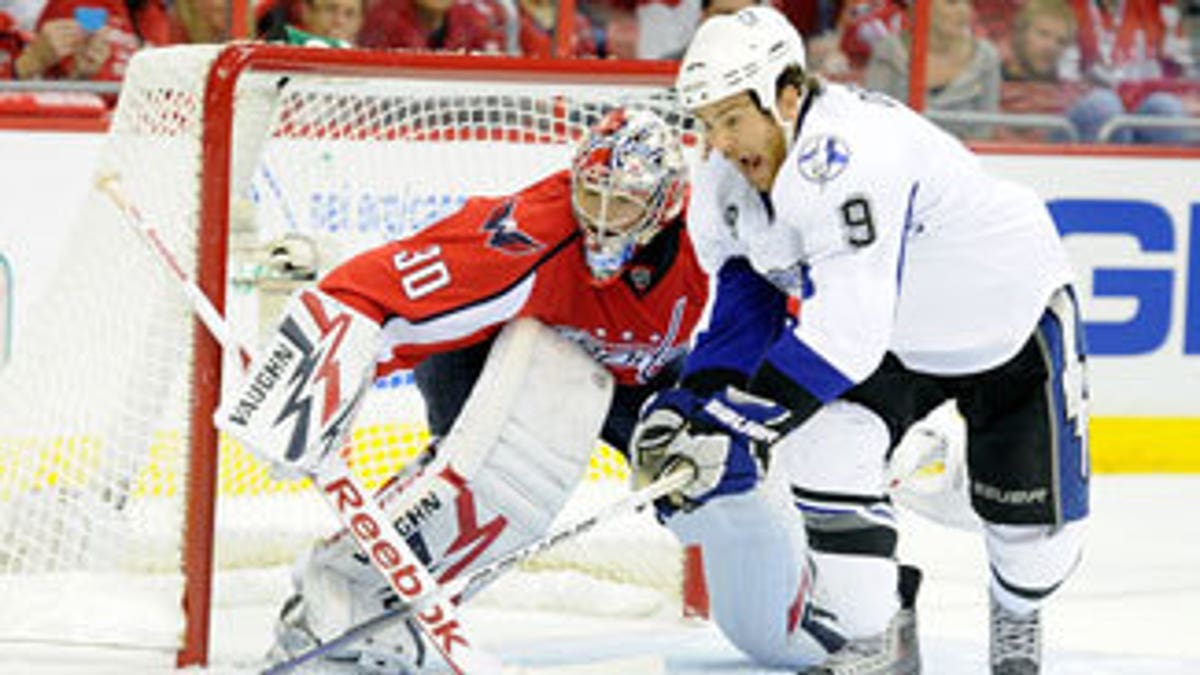 WASHINGTON -- The Tampa Bay Lightning are two wins away from the Eastern Conference Finals, but you wouldn't have known it after Sunday night's 3-2 overtime victory against the Washington Capitals at Verizon Center.
Much like Friday after Game 1, the attitude was very subdued. In Guy Boucher's mind and in his players' minds, nothing has been accomplished. Not yet.
"It's whoever wins four games, not two," said forward Martin St. Louis, who gave his club a 2-1 lead 7:35 into the third period -- a lead that stood until Alex Ovechkin tied it with 67 seconds to go. "Obviously we're happy with the result, but we haven't done nothing yet."
"Luck" was a word that bounced around by players in the Lightning's dressing room after the team took a 2-0 lead in this best-of-seven series that shifts to Tampa Bay for Game 3 on Tuesday night. Indeed, the Bolts were fortunate that it was 1-1 game after 40 minutes considering they were outshot by a 16-3 margin in the second period. They were fortunate that Nicklas Backstrom's scoring woes continued (he's gone 15 games without a goal) and that the Caps' power play went 0-for-6.
"I think today we got away with one … we survived one, but I don't think we can survive two more," Boucher said. "It can't be about surviving. We're not kidding ourselves … this next game, they're going to have all their cannons firing at us."
The Caps certainly had all their cannons firing in the first 40 minutes, when they peppered Dwayne Roloson with 27 shots. But the 41-year-old shined again for the Lightning, allowing only Brooks Laich's whack with 5:08 left in the second period to get past him. But just like his teammates, Roloson wasn't doing any high-fiving or hugging after the victory.
"What happens in the past is in the past," Roloson said. "We've just got to focus on our next game. Like I said I don't know how many times, these guys are too good of a hockey team. We've just got to try and play our best day in and day out and hopefully we can get wins. We got two lucky wins here. Hopefully we can go home and try and push them back a little bit, but they're too hard of a team to keep away."
Said Boucher of Roloson: "He's been making a lot of great saves in these playoffs. Obviously to win against a team like that, you're going to need that every game because they've got so much firepower that at any moment, any of their shots can go in."
It's for those reasons and more that the Lightning know they haven't won anything yet. They're living proof that anything can happen in the Stanley Cup Playoffs, evidenced by their ability to rally from a 3-1 series deficit to oust the Pittsburgh Penguins in the opening round. And, let's not forget, the Montreal Canadiens won their first two games at Boston before ultimately falling in seven games to the Bruins.
"We'd rather be up 2-0 than down 2-0," Bolts defenseman Victor Hedman said. "But we have to reload. Montreal was in the same position. You have to stay down to Earth and keep making the small plays. We just have to keep playing the way we can play. We have to step it up another notch to win at home."
On Monday though, the Lightning players will have a day to themselves. With Games 3 and 4 at the St. Pete Times Forum to be played on back-to-back nights, Boucher wants his team to enjoy a much-needed day off. He's thankful Sunday's overtime didn't last any longer than it did.
"We need rest … rest is a weapon," Boucher said. "We told the players we don't want to see them until Tuesday. It's been very, very tough for us. Guys gave everything they had today. It's about time we scored that goal. I don't think we could have gone on another period like that. I was watching the (Nashville-Vancouver) game last night and it's in second overtime and I'm thinking, 'We can't go to second overtime with the guys that tired.'"
Follow Brian Compton on Twitter: @BComptonNHL