Bolland has resumed annual menacing of Canucks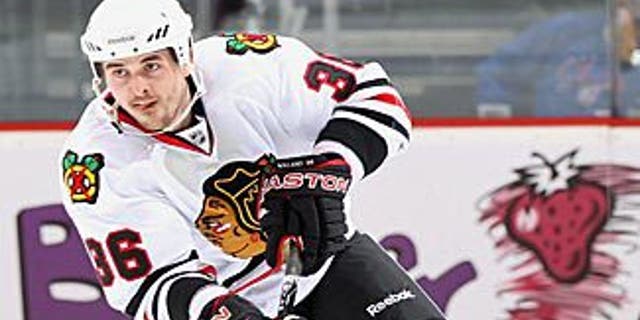 CHICAGO -- Brace yourself, Vancouver.
Public Enemy No. 1 is coming back for Game 7 of a Western Conference quarterfinal-round series on Tuesday night against your Canucks, and he's already licking his chops. We're talking, of course, about Chicago Blackhawks center Dave Bolland, who already has a stable of interesting nicknames at his disposal -- such "The Rat," and "The Greyhound."
If Bolland can help the Hawks do the unthinkable and win this series after being down 3-0 before he returned from a concussion, he can officially add "Sworn Enemy of the Sedin Twins," to the list.
In fact, Bolland has already done a lot in this series alone to spoil the fun for Henrik Sedin and Daniel Sedin, among others. He'll probably be lucky if customs officers in Vancouver don't mysteriously detain him for a couple of days for suspected menacing of the Canucks.
"I'm pretty sure if I'm going to go there on a vacation, it wouldn't be nice," said Bolland, who hopped aboard a charter jet with his Hawks teammates on Monday and headed northwest with an extra pep in his step. "They probably wouldn't let me in, once I got to the border. I do think most people do recognize me (in Vancouver). It's probably not the nicest things they say, but it's always fun going there and playing. The atmosphere and everything that goes on in Vancouver is great."
Yeah, maybe for him.
Not so much for the Canucks, who are getting really tired of answering questions about Bolland being the antidote to their prolific scoring attack -- which was key in them winning the Presidents' Trophy and gaining the top seed in the West. It didn't help when goalie Roberto Luongo slipped up after Bolland's first game in this series, in which the Hawks roasted Vancouver 7-2 in Game 4 at the United Center for their first win.
Luongo said he didn't think Bolland was the kind of player who could change a series. Ever since, Chicago hasn't lost, also winning Game 5 in a blowout.
"I heard about that," Bolland said of Luongo's comment, a day after scoring a goal, adding an assist and centering a line that scored all three of the Hawks' goals in regulation.
Did it give him a personal challenge to prove Luongo wrong?
"No, not really," Bolland said. "I just came out and played. What they like to say over there … whatever. I just had to go play."
And just be himself -- whichever moniker that might be.
It's becoming clearer with each passing game between these teams that Bolland and the lines he centers give the Sedins fits. Henrik set up Daniel for Vancouver's first goal in Game 6 -- which gave the Canucks an early 1-0 lead in the first -- but overall the twins were stymied for a third straight game.
Does "The Rat" have a certain formula for slowing down the highly-skilled Sedins?
Not exactly.
"I don't think I have a formula," he said. "It's not like math. I just have to go out there and play. They're just two ordinary players, right? Just go out there and play."
Keeping the Sedins largely at bay in Game 6 also had a lot to do with Chicago rookie goalie Corey Crawford, who stopped all 12 shots he faced in overtime, despite the Canucks putting a lot of heat on him. Meanwhile, Bolland and his linemates, Bryan Bickell and Michael Frolik, made arguably their biggest contribution of the game on offense.
All three scored goals, including Frolik's penalty-shot goal that tied it 3-3 at 2:31 of the third after Kevin Bieksa had just put the Canucks up 3-2 at the 58-second mark of the period.
Frolik's penalty shot also knocked goalie Cory Schneider from the game with a leg cramp and paved the way for Luongo to finish up and eventually allow the game-winner on a rebound backhanded chip shot over the pad by rookie Ben Smith with 4:30 left in OT.
Asked what makes his line so effective at both ends of the ice, Bolland pointed mainly to the combination of size and strength.
"Bick's got a big body and Fro's got a big body," Bolland said. "The way they use it, it's to our advantage and it helps me out, too. It's easier getting that puck in and then going for it and battling."
Case in point: Chicago's first goal, scored by Bickell late in the first to tie it 1-1. After some work below the goal line by Frolik, Schneider played the puck to Dan Hamhuis near the corner. As Hamhuis was about to play it, Bolland swooped in at full speed and barreled into him -- causing the puck to slide right to Bickell in the slot for a quick, hard wrister that dented the net.
For Bolland, the fact the Hawks scored was secondary. Hamhuis got his arms up on a check against Bolland in Game 5 at Rogers Arena and smacked his head into the glass from behind. Coming off a long absence because of a severe concussion, Bolland didn't appreciate it and smashed his stick into pieces in anger.
Did Vancouver's most despised villain know it was Hamhuis who was all lined up for a hard hit in Game 6?
"Oh yeah, I did," Bolland said, smiling. "I think I knew from the blue line in."
Did it feel as good as a goal?
"I thought it felt better than a goal," he said, smirking. "He's a great player and when all that stuff went down, nothing was intentional … (had) nothing to do with anything. But it's good to get another lick back."
Again, good for him. Not so much for the Canucks, who by starting Schneider instead of Luongo in Game 6 practically threw everything they could think of at the Hawks and still lost. Is there such a thing as a mental edge in hockey -- specifically in this rivalry?
"Yeah there could be a mental edge," Bolland said. "For us, we've just been so positive in going forward. Everybody on the team has been great and positive. We always just know we're going to win and that's the main thing with us, just being positive going into this Game 7."