Blues face elimination in Game 5 against Predators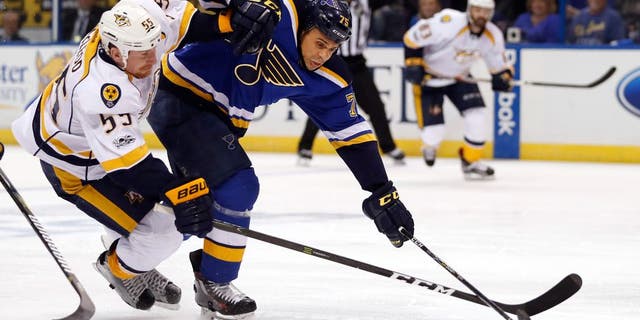 Pekka Rinne was drafted by the Nashville Predators in the eighth round in 2004, back when the franchise was celebrating its first playoff appearance.
Thirteen years, 11 NHL seasons and 564 games later, Rinne and the team that drafted him in a round that no longer exists are a win away from reaching a place they've never been before.
If Nashville can eliminate the St. Louis Blues in Game 5 of their Western Conference semifinal Friday night at Scottrade Center, it will earn its first conference final spot.
"It would be huge for the organization," Rinne said Tuesday night after stopping 32 shots in a 2-1 Game 4 win that gave the Predators a 3-1 series lead. "Our fans, our players and the city are hungry for the next round. When you have a chance to close these things out, you really have to step on their throat."
Nashville proved to be a superb closer in the first round, sending the Chicago Blackhawks home in four straight games, including a 4-1 victory in Game 4. While it has been the better team in this round as well, evidence suggests this closeout game might not go as smoothly as the first one.
St. Louis played well for most of Game 4, doing most of what it pledged to do after a 3-1 defeat in Game 3 thatwasn't close. It played more physically, outshot the Predators for the first time in the series and won 53 percent of faceoffs.
But Rinne, Ryan Ellis and James Neal offset the Blues' solid performance with their heroics. Rinne improved to 7-1 in the playoffs with a microscopic 1.33 goals-against average, upping his save percentage to .953.
Ellis scored in his seventh straight game, tying the franchise playoff record with his fourth goal of the playoffs early in the third period. Neal supplied the game-winner with a spinning wrist shot that beat Jake Allen over the stick side with just under seven minutes left.
It capped Neal's best game of the postseason. The right winger fired 10 shots in Game 4 and could have scored another goal were it not for Allen's terrific stop early in the third period.
"You're fighting for every chance you get and every piece of ice," Neal said. "It's a tough game, so you try to get good looks. When you get good looks, you try to get them off good."
St. Louis doesn't plan to change a whole lot from Game 4, other than perhaps reducing its time in the penalty box. The Blues took seven minors Tuesday night after drawing six in Game 3.
Nashville has three power play markers in the series and two other goals that occurred less than 30 seconds after 5-on-4 time ended.
"I think we did a lot of things better tonight than we have in the previous games," St. Louis captain Alex Pietrangelo said after Game 4. "We put a lot more emphasis on the small things, shot blocks and communication being there."
Should the Blues stave off elimination, Game 6 would be played at 2 p.m.Sunday in Nashville.