'Blade Runner' falls short in semifinals of Olympic 400M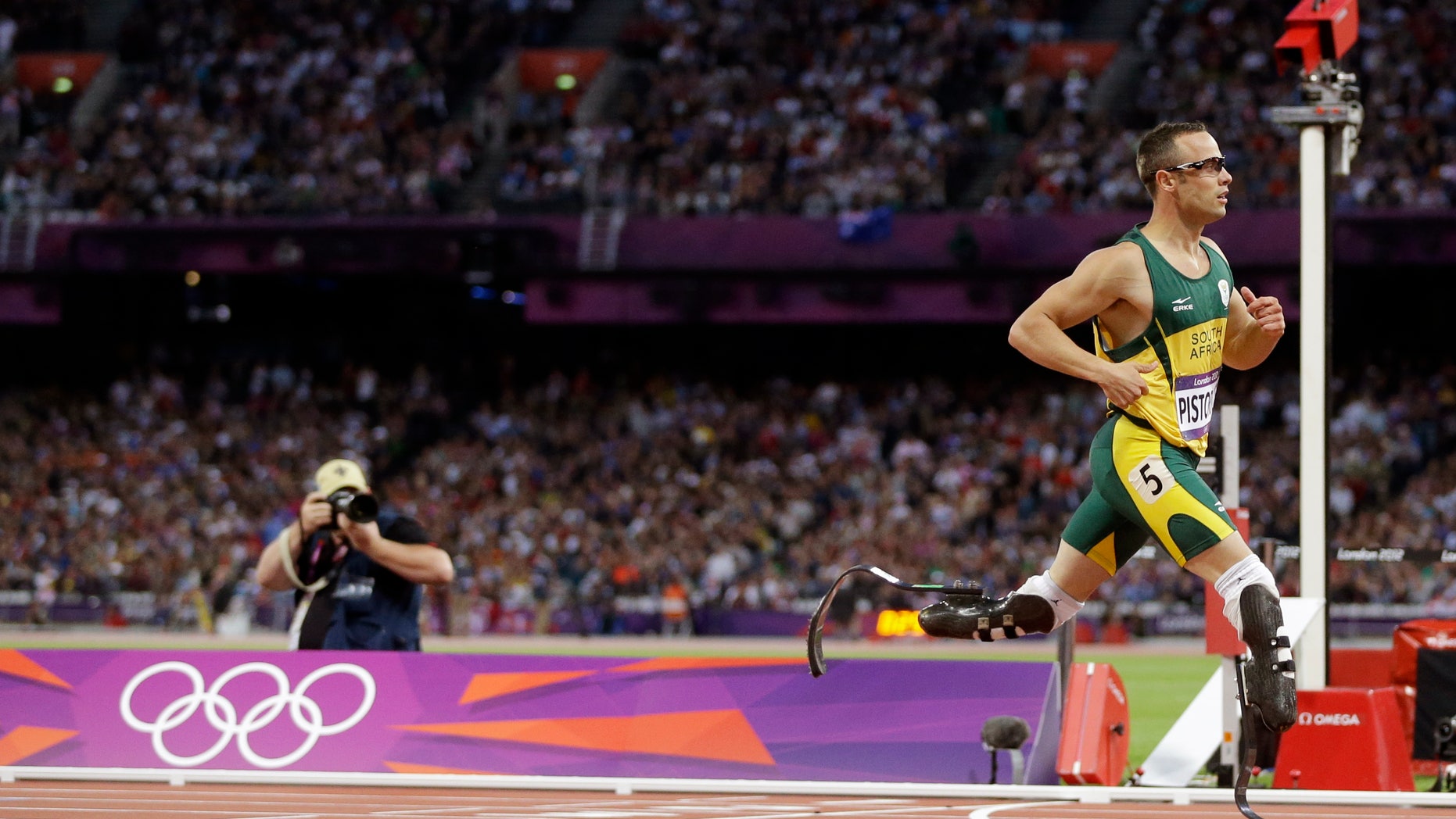 Double-amputee runner Oscar Pistorius' bid for Olympic gold in the men's 400 meters race ended Sunday after he followed up a bad start with a slow race to finish last in his semifinal heat.
The first amputee to compete in track at the Olympics never stood a chance and finished the race on his fiber carbon blades in 46.54 seconds, 1.95 seconds behind winner Kirani James of Grenada.
Still, world champion Kirani James immediately walked over to Pistorius after the race and asked for his name bib as a souvenir.
Pistorius, who runs on carbon-fiber blades, is still expected to run the 4x400 relays, which start Thursday. Last year, Pistorius and South Africa won the silver at the world championships.
On Saturday, Pistorius cruised past an opponent or two in the backstretch of a 400-meter heat, and by the end, the "Blade Runner" was coasting in for a stress-free success to reach the semifinal.
"I've worked for six years ... to get my chance," said the South African, who finished second. "I found myself smiling in the starting block. Which is very rare in the 400 meters."
He finished in a season-best time of 45.44 seconds, crossing the line and looking up at the scoreboard, then covering his face with his hands when he saw the capital "Q'' — for qualifier — go up by his name.
"Couldn't have hoped for anything better," he said.
The 25-year-old runner was born without fibulas and his legs were amputated below the knee before he was a year old. His is one of those stories that is every bit as much about the journey — one part dramatic, another part inspiring and yet another part controversial — as the final result.
"I know Oscar was the protagonist in the race," said Luguelin Santos of the Dominican Republic, who actually won the heat by .4 but went virtually unnoticed. "But I love him. He's a good racer."
Erison Hurtault of Dominica, who trained with Pistorius in South Africa, agreed.
"One thing I can say about Oscar is he's an incredibly hard worker," Hurtault said. "I'm glad to see him out here. I'm glad he's getting a chance to finally compete and hopefully something emerges out of everyone else's mind."
Pistorius' race, of course, resonated beyond sports and beyond London.
The runner's father, Henk, and Gerry Versfeld, the surgeon who amputated Oscar's legs, watched the heat at a restaurant in Johannesburg with some friends. The father and the doctor hugged after the race and there were tears in Henk Pistorius' eyes.
"To now stand on the pinnacle of where you strived and you hoped and you dreamed to be must be an amazingly emotional feeling for him," he said. "I feel compassion and pride."
Pistorius is an accomplished runner, with four Paralympic gold medals, but he waged a long fight to run in the Olympics against able-bodied opponents.
After dozens of hearings in front of hundreds of men and women in suits charged with the task of deciding whether the blades gave Pistorius an unfair advantage — then getting his country's Olympic committee to accept his qualifying times and enter him into the games — Pistorius finally got his chance.
The Associated Press contributed to this report.