BK finally had it his way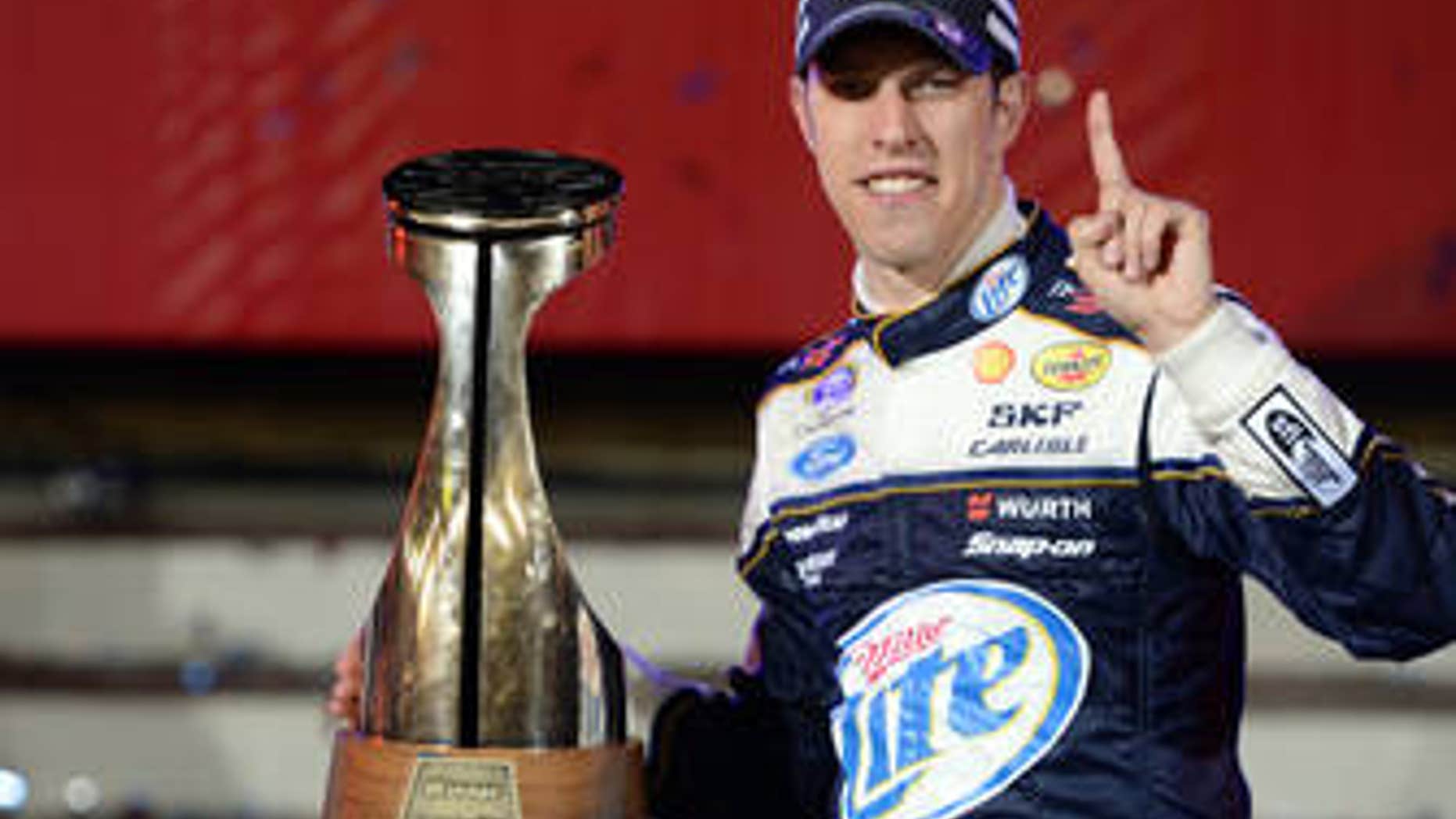 Well it has taken almost the entire season, 31 races in fact, for our defending NASCAR Sprint Cup Series champion to find his way back to Victory Lane. At the end of the Bank of America 500 at Charlotte Motor Speedway, there was Brad Keselowski celebrating in Victory Lane. I guess the old cliche of "better late than never" really fits in this scenario.
Brad and his team have been plagued by bad luck almost the entire season. Some of it was self-induced. This simply hasn't been the season our new champion thought it would be. I don't think anyone even outside the team thought it would take them until the middle of October to get their first win. By the way, it's their first win in a Ford as they had switched over last off-season from the Dodges.
As competitive as NASCAR is right now, any time you can win is a great time. The timing of this particular win is especially sweet since Roger Penske, Brad and their sponsor Miller, just announced an extension of their relationship with each other.
Unfortunately, the tone for their season was set really early in the year and the distractions all season have been an uphill battle for the No. 2 car as a whole. Roger Penske has said in the past that Brad has a "bigger windshield" than others. By that he meant Brad, even at his young age, really takes a hard look at the big picture. So when he gives interviews and talks about ideas he has, his perspective is a lot different than a lot of the other drivers.
Personally I think that "big windshield" has gotten him in trouble this year as a driver and he really needed to narrow down his focus. He took on a lot of challenges. Actually when you think about it, the whole team has as well. With all the responsibilities that come with being the champion of your sport, the team took on a new driver in Joey Logano. As I mentioned earlier, they also switched from Dodge to Fords. If all that wasn't enough, all this happened at the exact moment in time when the Generation-6 car was rolled out for the 2013 season. That is a lot for anyone to handle.
This season has also seen its share of problems on pit road. Saturday night at Charlotte Motor Speedway was yet another example of that. They had a loose wheel plus the pit jack got hung up under the car. Thankfully a late-race caution gave them a chance to overcome all that.
There was a lot of controversy about that caution by the way. It had a lot of folks asking where the debris was. I was at the track Saturday night looking at the big screen they have on the backstretch plus listening to my scanner and I sure heard where the debris was. It definitely affected the outcome of the race. Obviously, it helped Brad overcome his pit road issues and he won the race.
Conversely, it cost Jimmie Johnson the win. He was leading the race when the caution came out. Then after his visit to pit road he doesn't come out in the best spot. Then once again, as we have seen multiple times this season, Jimmie's restart was less than spectacular. The car simply didn't go or handle like it was supposed to. So that late-race caution was the last thing that Jimmie and crew chief Chad Knaus had wanted to see.
So when it came time for the green flag to restart the race, Brad and Kasey Kahne launched forward while Jimmie went backwards. Kasey sure did have a really strong car Saturday night. He led 138 of the 334 laps, which was the most by any driver. He looked like the guy to beat but really out of nowhere here came Brad to win the race with Kasey forced to settle for second.
Our points leader Matt Kenseth didn't have the greatest of weekends when it came to practice and qualifying, but when the checkered flag waved Saturday night, there he was in third spot. Matt also led one lap, which helped keep him four points ahead of Jimmie Johnson, who came home fourth Saturday night.
We are still at a two-man race between Matt and Jimmie. Kevin Harvick, who finished sixth in the race is 29 points back with only five races to go. Jeff Gordon is 36 back and Kyle Busch is fifth some 37 points back. Sure, those three are hanging tight to the two lead cars, but the clock is ticking and the performance simply isn't there from those three to consider themselves anything more than lurkers at this point.
I'm really not sure what happened to Jimmie's teammate Dale Earnhardt Jr. He qualified well with a sixth-place starting spot. He looked pretty good for the first part of the race. He led 19 laps but then faded to a 15th-place finish. Just like what I saw a Loudon, it seemed like that car got to bouncing and moving around making it really hard to control.
I wanted to mention Kyle Larson, the highly anticipated rookie in the NASCAR Sprint Cup series next year. His run Friday night in the Nationwide car was fun to watch. He had a car to beat if he hadn't tagged the wall. He qualified 21st for Saturday's race. He had a great run going and was in the top 15 until his engine let go. From a driver's perspective he did an awesome job and did exactly what we all thought he could do. I believe he is scheduled for a couple more runs in a Cup car this year and this kid is someone folks are going to have to deal with going down the road. The kid has a lot of talent.
I was doing the rough math over the weekend and I found the numbers to be really interesting. Of the 43 next year, it looks like 33 of them will have some kind of alliance next year with each other. Obviously it will be the smaller teams having some type of strategic alliances with the powerhouse teams of Hendrick Motorsports, Richard Childress Racing, Roush-Fenway Racing or Joe Gibbs Racing.
I think you can thank the No. 78 car for the acceleration of that. The results they have gotten this year with Kurt Busch behind the wheel and their alliance with Richard Childress Racing has been spectacular and gave a blueprint for others to work from in the future.
This weekend it is Talladega. It's a crap shoot. We all know that. There will be all kinds of strategy. Matt and Jimmie will be just as happy to get a decent finish and move on, trust me. Like we always tell you, you could be having a perfectly fine day going at Talladega and in literally the blink of an eye, you are on the hook headed to the garage through zero fault of your own.
One of the main storylines I am going to follow is what strategy the drivers utilize. Will you try and run up front all day? Will you fall to the rear with some of your buddies and try to stay out of trouble until it's time to go? If you go that route, you are going to have to drive up through what we call the "eye of the storm" sooner or later, so there really is no good strategy I believe.
All it really does is string-out what we've all come to expect and that's whether you are in the Big One or fortunate to dodge the Big One. It's just that way. It can happen early. It can happen during the middle of the race. It can happen going into Turn 3 on the last lap. You just don't know when it's going to happen but you do know it is going to happen. It's just Talladega.