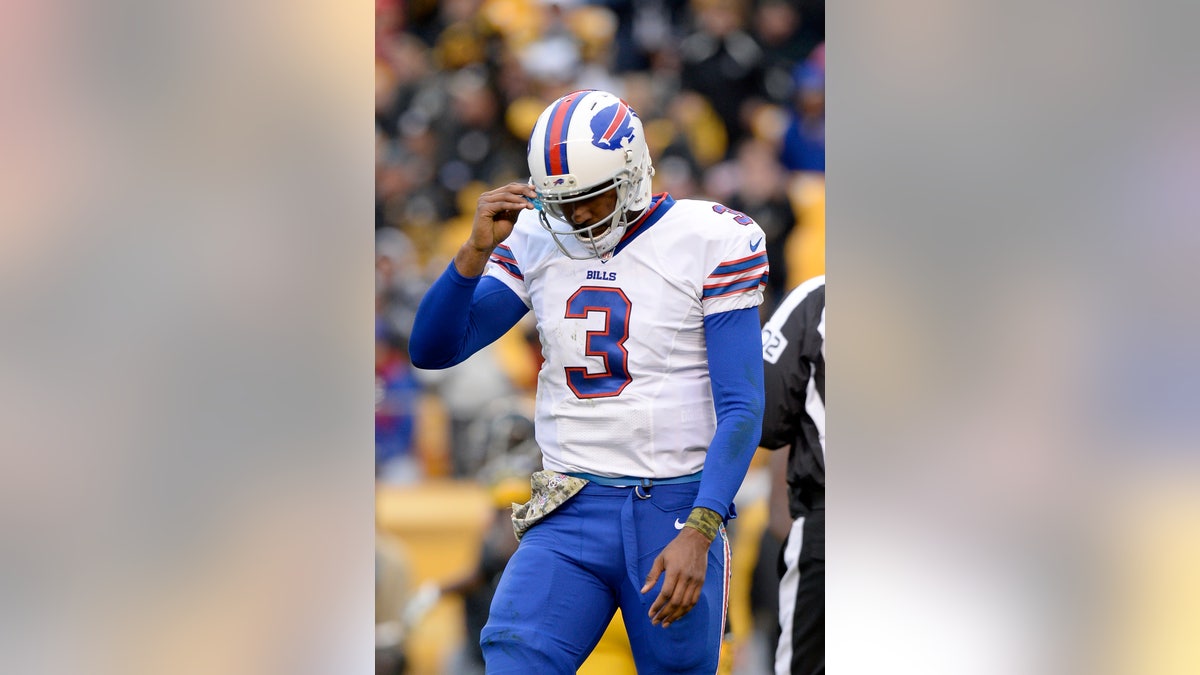 ORCHARD PARK, N.Y. – Buffalo's EJ Manuel and New York Jets' Geno Smith have yet another thing in common in preparing for Round 2 of their AFC East showdown of rookie quarterbacks on Sunday.
Neither cares to be drawn into discussions regarding which of the first two quarterbacks selected in the draft is off to a better start.
"I'm not trying to compare myself to any of those guys," said Smith, who was drafted 39th, 23 picks behind Manuel. "I just want to be the best player I can be right now."
Smith gained the early edge after topping Manuel in their first meeting: the Jets 27-20 home win on Sept. 22.
Manuel was quick to dismiss a question regarding whether the rematch offers a chance to re-establish himself in the conversation.
"If you think so, OK," said Manuel, noting it doesn't matter who the opposing quarterback is. "Not necessarily because it's Geno, simply because it's the Jets. It's a divisional game, and obviously it's a game that we need to win in order to still get where we need to be."
The Bills (3-7) haven't been getting anywhere. They've lost five of six to find themselves of the verge of extending the NFL's longest active playoff drought to 14 seasons.
Manuel is 2-4 in six starts, and his development was stunted by a sprained right knee that forced him to miss four games. And he didn't look sharp in his return, overseeing an offense that mustered a season-worst 227 yards in a 23-10 loss to Pittsburgh last weekend.
Smith has been inconsistent as well, but has the better record in pushing the Jets (5-4) into playoff contention.
Manuel has six touchdowns versus four interceptions. Smith has eight touchdowns and 13 interceptions.
"I can promise you this, it's not easy," Jets coach Rex Ryan said of developing a young quarterback. "You focus on the team. You don't focus on the individual. "
Here's five more things to look out for on Sunday:
REED TO THE RESCUE: The Jets shored up their leaky pass defense by signing veteran safety Ed Reed two days after he was cut by Houston.
It's an obvious fit for the nine-time Pro Bowl selection, who is reunited with Ryan after the two were together in Baltimore. Reed is expected to play in a limited role Sunday on a defense that has allowed 689 yards passing and seven touchdowns in the air in its past two games.
The Bills' pass attack will be limited with rookie receiver Robert Woods (sprained left ankle) to miss his second game, and starter Stevie Johnson's status uncertain because of a groin injury.
BEWARE THE BLITZ: Bills defensive coordinator Mike Pettine faces Ryan, his former mentor, for the second time since leaving the Jets in January.
Pettine brought Ryan's attacking philosophy with him, and has Buffalo second in the NFL with 33 sacks. The Jets are tied for 11th with 27.
Ryan remains close with Pettine, but couldn't resist getting in a jab, by saying: "I don't like Pettine at all this week."
RUN-STUFFED: Manuel's struggles against the Jets in September puts the onus on running backs Fred Jackson and C.J. Spiller to relieve the burden.
The Jets allowed a season-worst 120 yards rushing against Buffalo, though nearly half the total came on Jackson's 59-yard run. The Bills' running attack, however, has struggled recently with opposing defenses keying on containing Jackson and Spiller, who combined for 88 yards against Pittsburgh.
"I don't expect them to do much to change anything," Jackson said of the Jets' approach. "It's a recipe I would stick with if I was them."
RESTED OPPONENTS: Bills coach Doug Marrone is unhappy with the NFL scheduler by noting the Jets are one of Buffalo's six opponents coming off an extended break.
The Jets are the Bills' third opponent coming off a bye. The Jets also had a 10-day break before the first meeting against Buffalo, as will the Falcons (Dec. 1) and Jaguars (Dec. 15).
Marrone called that a disadvantage, saying: "The biggest thing in this league, the one thing that helps you the most, is rest."
WIN ONE, LOSE ONE: The Jets have been consistent in their inconsistency by alternating wins and losses. They're attempting to win two straight for the first time since winning consecutive games Dec. 2 and 9.
___
AP NFL website: www.pro32.ap.org