Bills GM Whaley: Plan was to sit Manuel behind Kolb 'one or two years'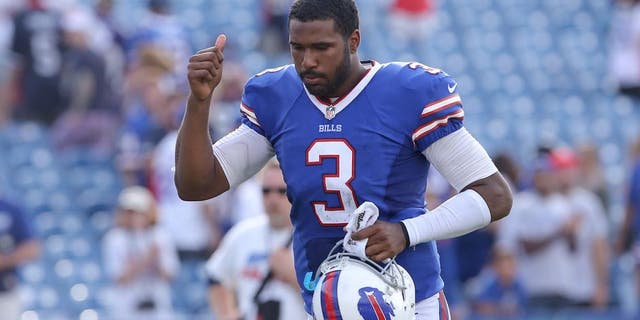 NEWYou can now listen to Fox News articles!
When the Buffalo Bills drafted EJ Manuel 16th overall in the 2013 NFL Draft, it raised some eyebrows. Scouts pegged the Florida State product as not exactly NFL ready in year one, but the Bills thought he was worth taking a shot on. They just weren't planning on playing him in year one, according to general manager Doug Whaley.
"That was the original plan. Sit behind Kevin Kolb learn, one or two years and then see what he can do," Whaley said on WGR Sportsradio 550.
That plan changed in Week 3 of the preseason in Manuel's rookie year when Kolb suffered a concussion. Manuel was thrust into the starting role and the Bills have had to roll with the punches since then. Entering his third year in the league, Buffalo is still holding out hope for their former first-round pick.
"Year three I would say he's probably a tad behind, but we're excited to see," Whaley said. "If last year was his first year, I know he's further along this year than he was last year from that experience.
"So this year we want to see a step," he continued "Will it be the ultimate step? That's up to him. I've seen he's gone through trials and tribulations. He's learned from them. And the one thing I know about him is if he does make it it'll be because of his work ethic and if he doesn't make it it won't be because of his work ethic."
Manuel will battle Matt Cassel and Tyrod Taylor for the starting job in training camp, although he already seems to have lagged behind the two. Cassel is reportedly the front runner at the moment, but he doesn't exactly have the best track record in the NFL.
It's a competition that will still end in a mediocre quarterback starting, but it's a reality the Bills have to accept.
(h/t Buffalo Bills)