Bill O'Brien: Texans running game 'too inconsistent'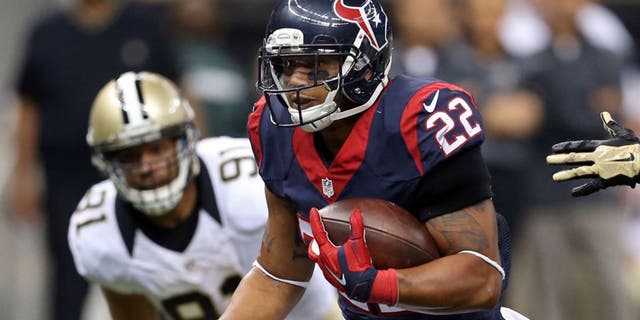 NEWYou can now listen to Fox News articles!
With star running back Arian Foster out for the foreseeable future after having surgery on his injured groin in August, the Houston Texans have turned to turned to backups Alfred Blue, Chris Polk, Kenny Hilliard and Jonathan Grimes.
Through three games, the Texans rank 13th in the preseason in rushing, averaging 99.7 yards per game, but just 2.8 yards per run. Hilliard, who is filling in as the starter, has run for 81 yards on 17 carries, while Polk has gained 87 yards on 28 carries. Hilliard has 67 yards on 30 carries and Grimes has gained 41 yards on 13 carries.
While there have been some promising signs thus far, head coach Bill O'Brien indicated he'd like to see more from the team's rushing attack.
"Running the ball in this league is very difficult, it really is," O'Brien said, per the Houston Chronicle. "I think our running game, at times, has been decent, but it's too inconsistent. Hopefully, you'll see some improvement on Thursday in the Dallas game. I think there have been times where we see glimpses of what it can be, but we've got to be a lot more consistent."
Foster is set to miss at least part of the season, but the Chronicle, citing sources, said the Pro Bowl back may be able to return in late September early October.
"Obviously, losing Arian was tough," O'Brien said. "You don't replace Arian. Hopefully he'll be back sooner rather than later. He's working very hard to get back."
(h/t Houston Chronicle)