Bill O'Brien says he's given no thought to benching struggling Brock Osweiler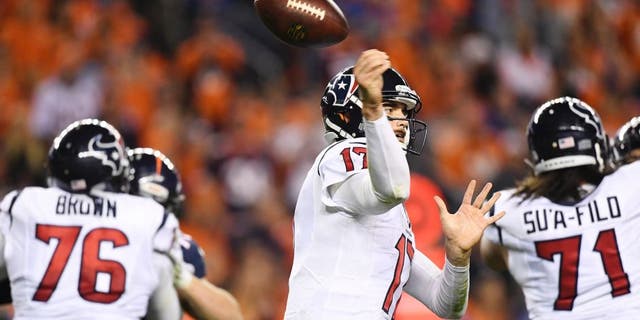 If you want to look on the bright side, Brock Osweiler is the starting quarterback for the AFC South-leading Houston Texans. Fans of the 25-year-old quarterback can point to that as a reason to stick with Osweiler.
But after his woeful performance in Monday night's 27-9 loss to his former Broncos teammates, many have wondered if Texans head coach Bill O'Brien should consider giving Osweiler some time to learn from the bench.
O'Brien told reporters Tuesday that he has given no thought to benching fifth-year quarterback -- but does concede that he needs to play better.
"He's a good player. I think he can play better, receivers can run routes better," O'Brien said, via the Houston Chronicle. "It has to get better. I can't really pinpoint one thing."
Osweiler couldn't play much worse than he did against the Broncos, completing 54 percent of his attempts and averaging just 3.2 yards per completion. His long pass went for 13 yards.
The Texans expected more when they signed Osweiler to a $72 million deal in March. He's completing 58 percent of his passes for 1,533 yards with eight touchdowns and eight interceptions. The 4-3 Texans hope he can find a rhythm against the suddenly streaking Lions on Sunday.