Big saves and missed chances as Chelsea and Manchester United draw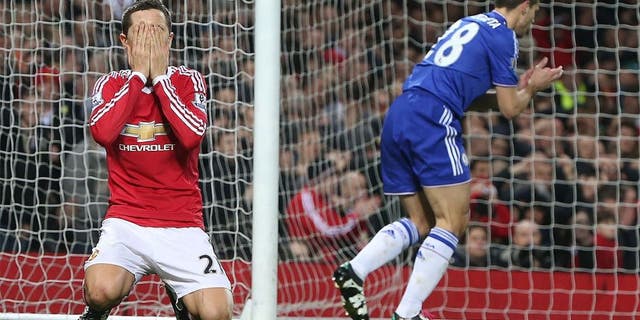 Where, then, does this leave Louis van Gaal? If it's true he was told before the defeat to Norwich City that he had three games to save his job, then a return of one point would seem a fairly damning verdict. The performance holding Chelsea to a 0-0 draw, though, was, in parts, far brighter than anything United has produced for some time and it could for once claim that luck had not gone its way. It could have had two penalties and twice hit the woodwork, while Ander Herrera was denied by a scarcely comprehensible save from Thibaut Courtois. Yet at the same time, it took two brilliant saves from David De Gea to prevent Chelsea stealing a victory. And whatever the circumstances, it would be hard to mount too much of a defense based on a seventh goalless draw of the season. This is eight games in all competitions without a win for United, and run that has seen it slip nine points behind the leaders Arsenal.
Given the sense of expectation around the game, and the stature of the two teams involved, there was something disconcerting about the fact that it featured the teams in sixth and sixteenth in the table. Adding to the slightly odd atmosphere, the game's dominant presence was one notable by his absence: Jose Mourinho. Sacked by Chelsea 11 days ago, his face appeared on red scarves outside the ground, an indication that there is a section of the United support that would love to see him appointed to succeed Van Gaal. Even if this is the end for the Dutchman, there's no guarantee Mourinho would be the preferred choice to replace him.
After the match, Van Gaal reaffirmed that he was still in charge.
There is not any reason to resign for me," said Van Gaal, who brought up the possibility after the 2-0 loss at Stoke on Saturday. "Maybe the media wants that, but I shall not do that."
There was at least a fight and an energy missing form the defeats to Norwich and Stoke City. Wayne Rooney, in particularly, looked sharer than he has for some time. Twice in the opening 16 minutes United hit the woodwork. First Juan Mata smacked the bar with a snapshot from the edge of the box, then Anthony Martial, dancing in from the left beat Branislav Ivanovic only for his low shot to strike the inside of the post and ricochet clear.
Add in a swerving effort from Morgan Schneiderlin that flashed just wide and United's football in that opening period was as penetrative as anything it has produced this season. That perhaps hinted at Chelsea's on-going deficiencies, but it also suggested a team that had at the very least modulated the sideways possession football that has led to such sterility and brought such criticism this season.
But after that bright opening what followed was something of a disappointment. United probably should have had a penalty wen Willian handled, and might have had one when Mata tumbled over Cesar Azpilicueta's clumsy challenge, but that aside the only clear opportunity came 11 minutes into the second half was Herrera seemed certain to convert Martial's low cross only for his effort to cannon to safety off the shoulder of the sprawling Courtois. Rooney slashed a late volley over as a cross fell to him at the back post, but there had been no sustained pressure.
Given its dearth of resources, Chelsea was probably happy enough with a draw that left it in 14th. With Diego Costa suspended and Falcao and Loic Remy injured, Eden Hazard had to play as the center-forward. Whatever else was wrong at the club under Mourinho at the beginning of the season, it remains bizarre that there should be so little reliable cover in such a key area.
Hazard actually played very well, producing arguably his best performance of the season, but his tendency to drop deep meant there was often nobody in a position to take advantage of his approach play. When there was, Chelsea looked dangerous, as it did three minutes into the second half as an Hazard run set up Pedro, who twisted by Chris Smalling, only for De Gea to make a superb diving stop to his right, before scrambling off the ground to bat away Cesar Azpilicueta's follow-up. In the first half De Gea had produced a remarkable tip-over to keep out a John Terry header as United again struggled to deal with a set-play.
With Cesc Fabregas not having traveled -- Chelsea said because of illness, but with reports linking him with a move to Milan or Juventus there were understandable rumors than the illness may be a convenient smokescreen -- Chelsea fielded Mikel John Obi alongside Nemanja Matic in a cussed midfield. Matic remains a shell of the player he was last season, his lack of confidence seen as he was set clean through by Pedro after 62 minutes only to smack his shot high and wide.
Had that gone in, perhaps it would have buried Van Gaal. As it is, there was probably enough in this game to make the case for him to stay on, but it may be that the accumulation of poor results will in itself be enough to do for him.