Big Picture: How Pitt has morphed into an ACC contender under Pat Narduzzi & more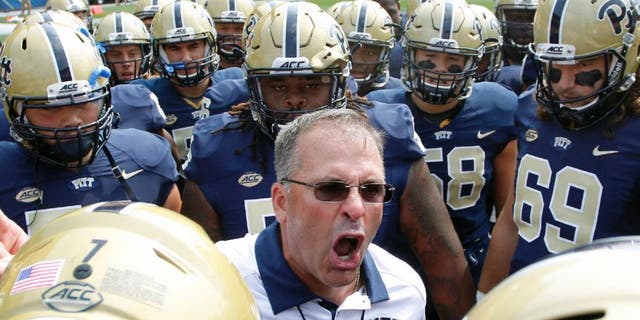 NEWYou can now listen to Fox News articles!
First, Pat Narduzzi heard his old team lost to archrival Michigan after they failed to convert a fourth-and-long. Then, a little later, Narduzzi's wife told him that her brother just called. Michigan State won. Somehow. Some crazy botched punt that got returned for a touchdown as time expired. Even though Narduzzi wears different colors now, he loved hearing how the Spartans won Saturday.
It was already a great day for Narduzzi. His new team, the Pitt Panthers went to Atlanta and beat Georgia Tech on a Chris Blewitt's 56-yard field goal -- the longest in Pitt's 126-year history of football -- to take over first place in the ACC Coastal Division. Not bad for a rookie head coach who has had to play almost the entire season without would-be Heisman contender James Conner.
The Panthers are now 5-1 for the first time since 2009. And they're a 57-yard Iowa field goal from being 6-0.
"That was a huge win," Narduzzi told FOX Sports Saturday night. "No one's really taking notice of what we're doing, but we've had four of our six games on the road. The homestretch is coming."
Last year, Pitt got smashed by Ga. Tech at home, 56-28, surrendering 612 yards. On Saturday, the Panthers still surrendered 482 yards, but just 145 in the second half.
"That option is huge pain in the ass," Narduzzi said. "We blitz the (stuff) out of Ga. Tech. If you play base (defense) against those guys, they'll gash your ass."
Narduzzi estimated that Pitt blitzed on 65 percent of their defensive snaps in the second half. That aggressive tact is nothing new for Narduzzi, who in the last decade earned a rep as arguably the best defensive coordinator in college football. Narduzzi still helps every day with the defensive game plan but on game days it's his DC Josh Conklin, who makes all the calls.
"He might even blitz more than I did," Narduzzi said.
Not surprisingly, the Panthers lead the ACC in sacks with 22 and are averaging almost a sack more per game (3.67 -- third in the nation) than anyone else. Last season, Pitt managed just 19 in 13 games and ranked No. 13 in the ACC. Ejuan Price, an undersized, but explosive 6-foot, 250-pound senior, has been Pitt's defensive spark plug (7.5 TFLs) after missing most of the past three seasons due to injury. "I think he's really having fun out there and he's a very good player," Narduzzi said.
In the secondary, Narduzzi has another stud coverman in sophomore Avonte Maddox, a 5-9, 170-pound sophomore from Detroit. Against Tech, Maddox allowed his first big pass of the entire season.
"He's been a lockdown guy and he's gonna be a great player. He's such a competitor and he's fast and very tough," Narduzzi said, adding that Maddox reminds him of former MSU star turned first-rounder Darqueze Dennard.
Offensively, the Panthers have a real difference-maker in junior WR Tyler Boyd, who has 41 receptions in five games. Pitt's also getting solid play from former Tennessee Vol Nate Peterman who has taken over at QB. The 6-2, 225-pound Peterman has thrown nine touchdowns and three interceptions and is completing 67 percent of his passes. On Pitt's three-game winning streak, Peterman has thrown six TDs without a pick.
"He's very accurate and smart," he said. "I think he has a chance at the next level."
Pitt is back on the road next week at Syracuse, where they can match last season's win total.
RANDOM STUFF
● Getting to eyeball 'Bama's big people last spring (on both lines and RB Derrick Henry) is why I came away convinced the Tide would win the SEC. Yeah, the Tide has had some questions at QB, but the rest of the conference is also very spotty at the most important position on the field. No one has the array of big, athletic dudes that 'Bama has. The Tide got a stunning three pick-sixes in Saturday's win at Texas A&M, but it was also how they mauled the Aggies at the line that controlled the game. 'Bama held Texas A&M to 32 rushing yards Saturday. Alabama has held all seven opponents in 2015 at least 69 yards below their season rushing average. More impressively, the Tide limited two of the most physical teams in the country -- Wisconsin and Arkansas -- to 115 and 160 rushing yards below their season averages.
On the offensive side, 'Bama's front is much improved this season and despite facing a talented A&M D-line, the Tide rolled up 258 rushing yards on the road with Derrick Henry going for a career-best 236 yards. The Tide has faced some really gifted D-linemen/pass rushers (Wisconsin's Joe Schobert, UGA's Jordan Jenkins and A&M's Myles Garrett and Daeshon Hall) this season and still only have allowed eight sacks in seven games.
● 'Bama's stud true freshman defensive back Minkah Fitzpatrick scored twice on pick-sixes (he'd scored a TD earlier this season as well). He is just the latest gem out of the Garden State to make a big impact. A year earlier NJ product Jabrill Peppers signed with Michigan and he's been fantastic. A year before that Ohio State got standout cornerback Eli Apple out of New Jersey.
● I did sidelines Saturday for the Texas Tech-Kansas game and spoke to both staffs about why they think Baylor is different from past Bears teams. Both sides agreed that it's because Baylor's much better and much stronger than they've ever been on both lines.
"That O-line is as physical as advertised. They move you," said KU DC Clint Bowen. "Once they get their hands on you, they move you."
KU head man David Beaty said BU has a special player in the middle of their defense in powerhouse Andrew Billings. Beaty has coached in SEC and Big 12 and said the only D-lineman he's seen who is better than Billings is former Nebraska great Ndamukong Suh.
● Iowa is quietly 7-0 and, with the way the schedule sets up, looking primed to go 12-0 heading into the Big Ten title game. The combined conference records of the Hawkeyes' remaining opponents is just 2-12.
The Hawkeyes offense has been potent, averaging 32.9 yards per game -- the first time since 2008 Iowa has averaged over 30 points per game (it was 30.3 in '08). The Hawkeyes lead the Big Ten in plays of 40 yards or longer with 12. They only had 12 in 13 games last season and only had 13 such plays in the 2013 and 2012 COMBINED.
Kirk Ferentz' move to QB C.J. Beathard appears to have paid off. He has 9 TDs and 3 INTs.
"I think Beathard is the real deal," said Pitt coach Pat Narduzzi, whose team suffered its only loss this season against Iowa. Narduzzi is the former longtime Michigan State DC and had seen plenty of Iowa offenses over the years. "He's a pure QB. You don't see many out there now. He can beat you with the ball. He can make all the throws. He has a quick release, is very accurate and puts it right where he wants it. Now they've got a guy who can win the game for them."
● With Vernon Adams Jr. back leading the Oregon attack, the Ducks hit six passes of 20 yards or longer against a Washington D that contained Cody Kessler and talented group of USC receivers its last time out. The Ducks only had 10 pass plays of 20-plus yards in the previous four games.
● Saquon Barkley is the real deal. The Penn State freshman tailback gashed a very talented Ohio State defense all night, gaining 194 of the Nittany Lions' 315 total yards.
● Leonard Fournette faced Florida, the SEC's No. 2 run defense, which was only allowing 99 yards per game on the ground. Fournette ran for 100 on UF before halftime, and is now averaging 200 rushing yards per game and more than 40 better per game than any other rusher in the country. He's also averaging over nine yards per carry in the second half.
LSU got a lot of heat on Treon Harris Saturday night. The Tigers now have 17 sacks in six games. They had just 19 in 13 last season.
● Justin Fuente has Memphis rolling, and with several Power 5 jobs open already, expect him to get a long look at South Carolina and Maryland and maybe even USC, too. The 39-year-old's Tigers beat No. 13 Ole Miss, 37-24, winning their first game over a ranked opponent since knocking off Peyton Manning and Tennessee in 1996. How Fuente's Tigers are winning is impressive. Consider this: He pulled the trigger to offer lanky 6-7 QB Paxton Lynch out of the state of Florida when his top offer was Bethune-Cookman, and the three receivers who caught 256 yards of Lynch's 384 passing yards against the Rebels and had all three of the Memphis TD grabs -- Anthony Miller, Alan Cross and Mose Frazier -- all arrived as walk-ons.
The Tigers are averaging 46 ppg (fourth-best in the country) and have scored 276 points in six games. In 2011, the season before Fuente arrived, the Tigers manage just 193 for the entire season and averaged 30 points a game less than they do now.
● Stat of the Day: Baylor's Corey Coleman caught three more TD passes Saturday in the Bears' 62-38 romp over West Virginia. The 5-11, 190-pound junior has 16 TD receptions in six games. That's only one less than last year's national leader, CSU's Rashard Higgins, had for the entire season.
Speaking of Baylor, QB Seth Russell accounted for 540 yards (380 passing, 160 rushing) and six TDs on the road at Iowa State to earn Walter Camp Offensive Player of the Week honors. Russell became the third different Bears QB (Robert Griffin III twice in 2011 and Bryce Petty in 2014) to win National Offensive Player of the Week honors in the past five seasons.
● Stat of the Day, Take II: Wazzu is off to its best start in Mike Leach's four seasons in Pullman and moved to 4-2 after blasting Oregon State Saturday, as sophomore QB Luke Falk had six TD passes… in the first half. The Cougars finally have a decent O-line and their best group of RBs in sophomores Gerard Wicks and Jamal Morrow and freshman Keith Harrington. Wazzu actually isn't dead last in rushing this season. They're averaging 87 yards per game on the ground, which is better than two FBS teams. However, they've been way more effective running the ball than in years past and are averaging 6.4 yards per carry. One other surprising note: They're also the only team in the country without a play of 40 yards or longer. Last year, WSU had 16 such plays.
● Stat of the Day, Take III: Utah State crushed No. 21 Boise State Friday night, 52-26. The Aggies are now 3-3 vs. ranked teams under Matt Wells. They were just 2-50 against them before Wells took over. Here's another reason why Wells should be high on ADs' lists as they search for their next coaching options: He won 10 games last season with four different starting QBs and is 17-4 playing backup QBs. Oh, and having been around the guy some, I'm confident in saying personality-wise, he'd be a good "fit" at any program/locale in the country.
Bruce Feldman is a senior college football reporter and columnist for FOXSports.com and FS1. He is also a New York Times best-selling author. His new book, "The QB: The Making of Modern Quarterbacks," came out in October 2014. Follow him on Twitter @BruceFeldmanCFB and Facebook.