Mariano Rivera closes Hall of Fame induction ceremony as 1st player unanimously voted in
For Mariano Rivera, it was the culmination of a storied career.
Rivera, the career saves leader and the first player unanimously voted into the Hall by the Baseball Writers' Association of America, was greeted by chants of his name from the adoring crowd as he stepped to the podium in a fitting close to Sunday's ceremony in Cooperstown, N.Y. The longtime New York Yankee spoke in both English and at the end in Spanish, rarely looking down at the speech he had prepared.
"I think I choose that because sometimes you write words and it doesn't sound right," Rivera said. "But, when you come from the heart, it comes right. My intention was always to speak from the heart."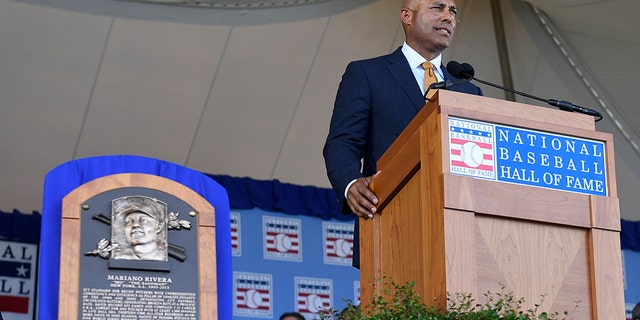 Rivera and fellow closer Lee Smith, starters Mike Mussina and Roy Halladay, and designated hitters Edgar Martinez and Harold Baines were celebrated on a sun-splashed afternoon. A crowd estimated at 55,000, the second-largest for an induction ceremony, quickly made Rivera feel at peace.
"You're special for me," said Rivera, who said he left his native Panama in 1990 unable to speak English. "Thank you for your help. Latin American fans, thank you. Thank you for loving me. I'm so humbled and blessed to receive this incredible honor. God bless you all."
BILLY RAY CYRUS CAMPAIGNS FOR PETE ROSE TO BE IN BASEBALL HALL OF FAME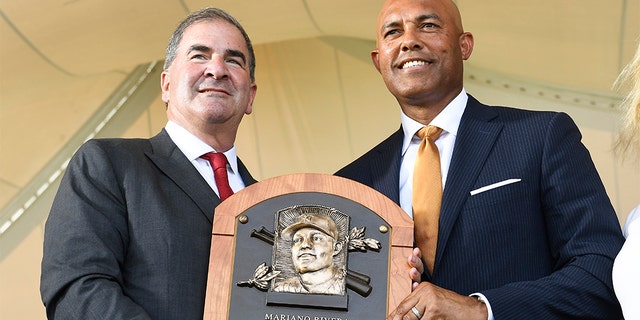 As a child, Rivera said he'd dreamed of being a soccer player in the mold of the great Brazilian star, Pelé. Instead, he found his niche on a baseball mound and finished his career with 652 saves.
He pitched 19 seasons in the major leagues, all with the Yankees, and retired with 952 games finished — also a record.
CLICK HERE TO GET THE FOX NEWS APP
A 13-time All-Star, Rivera helped the Yankees win five World Series titles and seven American League pennants.
"To the fans, you guys always pushed me to be the best," he said. "When I was at Yankee Stadium pitching, it felt like I was pitching with 55,000 people throwing one pitch after another. Without your support, I cannot do it. You guys came to see me succeed."