Biffle, Stenhouse Jr. collected in wreck after contact with Allmendinger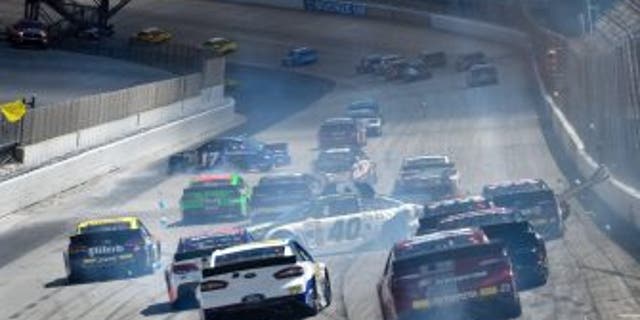 The Monster Mile jumped up and bit Roush Fenway Racing teammates Greg Biffle and Ricky Stenhouse Jr. on Lap 134 of 400 in Sunday's FedEx 400 benefitting Autism Speaks.
As the field raced through Turns 1 and 2, AJ Allmendinger dove under the No. 17 of Stenhouse for position. The two barely made contact, sending Allmendinger's No. 47 Chevrolet up into Biffle's No. 16 Ford.
Biffle's car bounced off the wall and was hit by Stenhouse, causing extensive damage to both cars. Meanwhile, Allmendinger was able to save his car and drive away without further damage.
Behind the crash, Ryan Truex got into the back of Landon Cassill's No. 40 Chevrolet, spinning him out.
"It looked like AJ was driving pretty hard, like he always does, and didn't have enough room there caught the front of the 17 car and turned himself up into me," Biffle said in the garage. "That's racing. That's what happens. This place is pretty tight around this concrete mile. That's why they call it the Monster Mile. It's a tough place. There's no margin for error. When a guy makes a mistake like that, usually multiple guys are going to pay for it."
While Allmendinger told his crew Stenhouse came up on him, the Roush Fenway driver saw it differently.
"The 47 jumped to the inside of us there and I tried to stay out of his way and he got me," Stenhouse said. "We met right-rear to left-front and it got him sideways and everything else happened after that. ... We didn't want it to end that way and we got our teammate caught up in it and tore up a lot of cars. That is not what we wanted to do. It is a tough end to our day. It is a bummer. We started the race so loose and we were hoping we could get it tightened up and be able to make some ground up but we were just really, really loose."
NASCAR officially listed six cars involved in the incident: Biffle, Stenhouse, Allmendinger, Truex, Cassill and Justin Allgaier.