Best of Bake: Jeff Gordon reveals number he wanted to use in Cup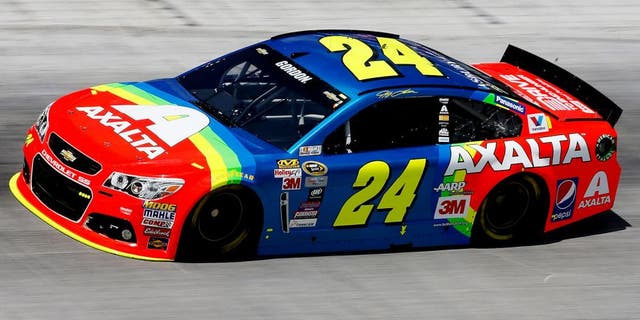 (Note: As 2015 comes to an end, we're looking back at some of the top Shake and Bake stories of the year. The following was originally published on June 23.)
Over 776 career starts in NASCAR's top series, Jeff Gordon has always raced with one number: The No. 24.
But Gordon - a four-time champion and winner of 92 races at NASCAR's premier level - would have actually competed with a different digit if he originally had it his way.
Fielding questions from a group of students during a recent visit to his old middle school in Vallejo, California, the Hendrick Motorsports driver admitted he's always had a special affinity for the No. 16.
"When I was racing when I was younger, one of the cars that I had was No. 16," Gordon said during a special promotional stop ahead of this weekend's Toyota/Save Mart 350 at Sonoma Raceway. "I loved that car and won a lot of races. It was one of the first cars that I ever had. That number has always stuck with me. When I started racing sprint cars, we put 16 on that car."
When Gordon joined NASCAR's top series full time in 1993, the No. 16 belonged to the Jack Roush-owned Ford of driver Wally Dallenbach Jr. - now a NASCAR analyst for FOX Sports 1.
Greg Biffle has used the number since going fulltime Sprint Cup racing for Roush in 2003.

"I wanted to be 16 in NASCAR, to be honest, but it wasn't available," Gordon said. "That number was already taken, so Rick Hendrick went with 24, and it's worked out pretty good. So I do like 24, but 16 is actually probably my favorite number. Twenty-four is my number. That's what I'm associated with, and I love it. But 16 is my favorite number."
Who knew?