Bengals' Tyler Eifert on national anthem: 'I stand because I love my country'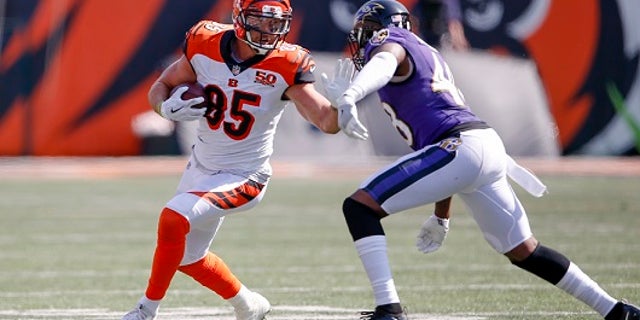 As a growing list of NFL players join the controversial movement to protest the playing of the national anthem, Cincinnati Bengals tight end Tyler Eifert is speaking out about why he always stands for The Star Spangled Banner.
Eifert wrote Saturday in the Medium essay, "Why I Stand," that he doesn't question any teammates who choose to sit or kneel during the anthem. But Eifert said he stands because he wants to honor the country's service members.
"I stand because I love my country," Eifert wrote. "I stand because I want to honor the people putting their lives on the line for me on a daily basis in the Army, Navy, Marine Corps, Air Force, and Coast Guard."
AARON RODGERS DEFENDS COLIN KAEPERNICK, SAYS EMBATTLED QB 'SHOULD BE ON A ROSTER'
Eifert goes on to explain his cousin, a pilot in the Air Force, risks his life each day for the safety of Americans.
The tight end wrote that, starting this season, he planned to honor a different service member each week by writing their name on his game day cleats.
Last week he chose Pat Tillman, the former Arizona Cardinals standout who declined a multi-million dollar contract to fight in the Army with his brother, Kevin, following the Sept. 11 terror attacks. Tillman died in Afghanistan in 2004.
Eifert posted to Instagram a picture of his cleats with Tillman's name on them, and added a link to the Medium essay.
Eifert wrote he was "in awe of Pat Tillman's courage."
"In 2002, he walked away from millions of dollars and a 'dream' most people couldn't imagine achieving to do one thing, fight for his country," Eifert wrote. "Pat wasn't fighting for himself, he wasn't fighting for one group vs. another; he was fighting for Americans."
KAEPERNICK SUPPORTERS CALL FOR NFL BOYCOTT
Eifert said that, 15 years after Tillman's decision to quit the NFL, he saw a divided country. But Eifert wrote he believes in the American flag and "everything our country was built on," adding he hoped in another 15 years Americans could "look back at these years unified with pride to be Americans."
Eifert also used the essay to highlight the K9s For Warriors charity and to bring attention to the post-traumatic stress disorder many service members face after combat. Eifert said he would work to raise money for PTSD treatment and service dogs for veterans.
"I respect my fellow players' right to kneel during the national anthem but I hope everyone now knows why I stand, and respects that as well," Eifert wrote.
Eifert has mentioned his respect for the military previously, posting a picture to Instagram of a fighter jet -- one day after former San Francisco 49ers quarterback Colin Kaepernick sat during the national anthem.
Eifert wrote: "Pretty cool picture! My big cuz took a bengals flag up on a mission in a hostile territory. But, thanks for defending the flag that really matters, even for the people who don't appreciate it!"