Bengals' Marvin Jones starting to feel like 2013 again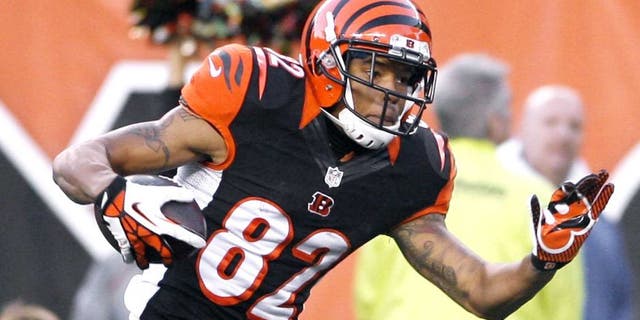 Bengals receiver Marvin Jones was back on the practice field Wednesday, and he couldn't help but feel a little nostalgic about getting his uniform dirty for the first time since his last game of the 2013 season.
Jones was full speed ahead during Cincinnati's second joint session with the Giants, helping Andy Dalton complete 18 of his 27 passes, according to Bengals.com. Jones felt like the old band was back together, even with the resting A.J. Green watching mostly from the sideline.
"It's always good when we're all back together and you can see everyone, including the draft picks," said Jones, who hauled in a career-best 10 touchdowns in 2013. "When we're all rolling, it's pretty fun and it was real fun today."
Jones missed all of last season with a foot injury, and was singled out to the media last week by head coach Marvin Lewis for missing more practice time for a hamstring issue. Jones chalked up the tight hamstrings as part of the process in getting back to peak NFL shape.
"My legs basically had to catch up," Jones said. "I don't want to keep harping on it. But you sit out and come back and try to put back-to-back-to-back days on it, my hamstrings had to climb aboard. They're doing it now. I knew they were going to come along. But nothing surprised me after what I've been through."
The return of Jones and tight end Tyler Eifert will give Dalton two weapons that he missed badly last season. Remember, there were games last season when Green was hurt and Mohamed Sanu was the only serious receiving threat at Dalton's disposal. Now Dalton will have Green and Jones on the outside with Sanu and Eifert patrolling underneath. Add in the 1-2 punch of Jeremy Hill and Giovani Bernard, and you have an offense that can potentially do some damage this year, and who knows, maybe even get Dalton and the Bengals over the playoff hump.
h/t: Bengals.com