Ben Rhodes shares text exchange with Kyle Busch after heartbreak at Kansas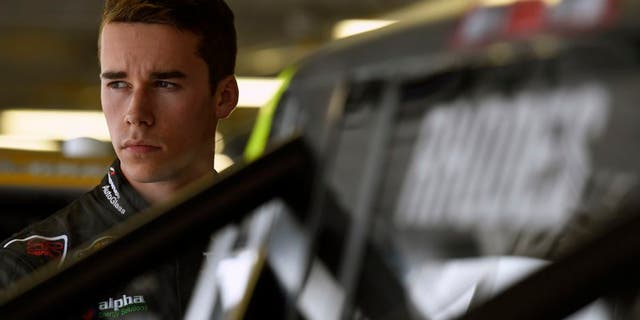 CONCORD, N.C. -- Kyle Busch has always been known for his colorful celebrations following a race victory, which includes smoking the tires and a bow to the crowd.
But that wasnt the case after Busch won last Fridays NASCAR Camping World Truck Series race at Kansas Speedway.
Ben Rhodes had a solid lead on Busch and looked poised to win before his No. 27 ThorSport Racing Toyota Tundra blew an engine with eight laps remaining. Rhodes relinquished the lead and Busch drove to victory.
But there were no burnouts or wild celebrations from Busch, choosing to grab the checkered flag and head straight to Victory Lane knowing Rhodes had the faster truck before it all went south for the young driver.
Thats one of the worst ones to swallow right there, Busch told FOX Sports in Victory Lane after the race. I didnt do a burnout or anything like that. I just got the checkered flag for our group of guys at Kyle Busch Motorsports. Ben Rhodes had that race won. I was trying everything I could to chase him back down but I didnt have enough speed in our Tundra tonight. His was faster than ours.
Before Rhodes engine let go, the pair had an entertaining 30-lap battle for the lead.
After coming so close to his first career Truck Series victory, Rhodes, eager to learn, texted Busch about what he was able to pick up racing alongside the 2015 Monster Energy Cup Series champion.
I texted him.I was like, Hey, Kyle, Ben Rhodes here, my idol, Rhodes said Thursday afternoon at Charlotte Motor Speedway. He was fast all night, obviously. That's what Kyle Busch does.And I asked him, I want to learn I feel like you were doing a lot of things out there that was new to me.
Some of the things he was doing with side drafting and drafting, and his restarts was all new to me, added Rhodes. When you run in the back and then you come to the front, it's considerably different, so I was just asking him questions about the restarts and side drafting and different ways to kind of work traffic to be a little more efficient and not get myself in trouble like I did last year."
Following a disappointing 23rd-place finish at Kansas, Rhodes looks to rebound Friday night in the NC Education Lottery 200 (8 p.m. ET, FS1) as he currently sits seventh in the points standings.