Beckham homers in eighth to power White Sox past Cubs 5-1 for two-game sweep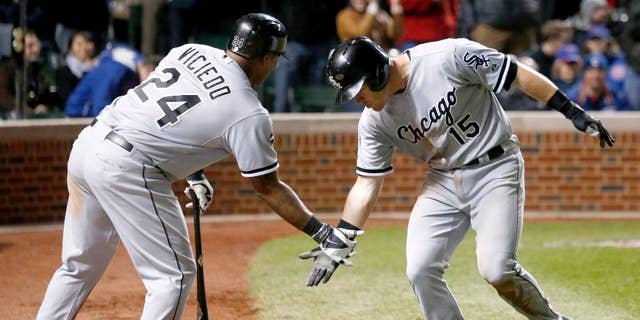 CHICAGO – Gordon Beckham's tiebreaking homer in the eighth inning helped the Chicago White Sox beat the rival Cubs 5-1 on Tuesday night.
Beckham was 1 for 6 in the White Sox's 3-1, 12-inning win Monday over the Cubs, but he matched a career high with four hits Tuesday. The fourth one, on a 1-2 pitch with two outs from Neil Ramirez (0-1), gave Beckham his first homer of the season and the White Sox the lead, one they held to sweep the two-game series at Wrigley Field.
The teams start a two-game series Wednesday across town at U.S. Cellular Field.
Moises Sierra had a career-high four hits for the White Sox, starting in place of Adam Dunn who was scratched about 30 minutes before the first pitch because of a bruised right calf. Dunn did pinch-hit for reliever Zach Putnam in the eighth and grounded out to short.
Putnam (1-0) got the win.