Bears real test against WVU might not be for defense, but offense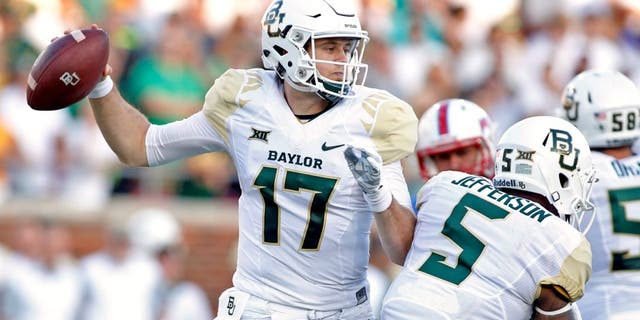 NEWYou can now listen to Fox News articles!
Baylor quarterback Seth Russell throws a pass in the first quarter against the SMU earlier this season. Tim Heitman USA TODAY Sports
Much has been made this week about the Baylor defense's quest for revenge against a West Virginia offense that burned it last season and handed the Bears their lone loss of the season.
That loss, 41-27 in Morgantown, ultimately kept Baylor out of the college football playoff.
But instead of Saturday's game against the Mountaineers being all about revenge for the defense, perhaps it should be viewed as the first real test for a Bears offense that has exploited weaker opponents to post basketball-like scores that, if continued, would obliterate the NCAA scoring record for a single season.
The Moutaineers, despite now being 3-2 after consecutive Big 12 losses to Oklahoma and Oklahoma State, easily stand as the most challenging foe on Baylor's schedule so far.
Baylor (5-0, 2-0 Big 12) hasn't scored fewer than 56 points in a game this season, and has posted at least 63 points in each of the last four games. Last week's 66-7 win at Kansas could have been much worse. The Bears has 52 at halftime and then effectively shut it down, a tact first-year Baylor quarterback Seth Russell was in the plans well before the game.
"That's something we were focusing on before we even went to the game," Russell told Tim Griffin of the San Antonio Express-News. "Our coaches said we could sit out the second half if we came out and made a big statement and scored a lot of points in the first half."
According to Griffin, Baylor's first-team offense played together for just 47 snaps in Saturday's stomping of the Jayhawks and has played into the fourth quarter just once this season, so clearly Baylor's point total could be even higher.
As it is, the No. 2-ranked Bears lead the nation in scoring and total offense, averaging 725 yards and 64.2 points per game. They have accumulated 321 points, which Griffin reports is the most points after five games by any school since the NCAA started the major college classification in 1937.
At this rate, Baylor would obliterate Florida State's 2013 record of 723 points scored in a 14-game season.
Surely the Bears can't keep up this level of scoring through the Big 12 Conference? Well, keep in mind they pinned 61 points on a salty TCU defense a season ago.
"You go back through the season and we haven't had many full football games," Briles said. "It's early, but at this stage of the season with the limited amount of reps, we're on a pace to be pretty good."
A year ago, West Virginia held Baylor to 27 points. So far in 2015, that's been a pretty good first quarter for the Bears.
MORE NEWS: Want stories delivered to you? Sign up for our College Football newsletters.